HOPI CODE TALKERS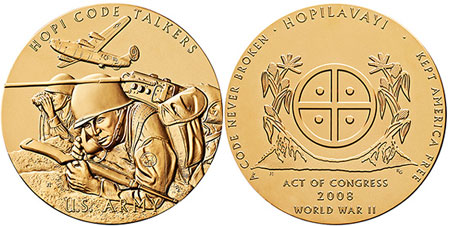 Although the Navajo tribe is most remembered for its contributions to the World War II communications code units, the Hopi tribe also helped in the communications coding efforts. Ten Hopi men developed a code language which they used to assist US Army intelligence in the Marshall Islands, New Caledonia and the Philippines during the Second World War.
Hopi Code Talkers who served in the United States Army include:
Franklin Shupla
Warren Koiyaquaptewa
Frank Chapella
Travis Yaiva
Charles Lomakema
Percival Navenma
Perry Honani, Sr.
Floyd Dann, Sr.
Hopi Code Talkers who served in the United States Army Air Corps include
Rex Pooyouma
Orville Wadsworth
The two who served in the U.S. Army Air Corps were in 5th Air Force, one assigned to the 380th Bombardment Group and the other to the 90th Bombardment Group.
Rex Pooyouma was identified by the U.S. Army Center of Military Studies in September 2010 as a Hopi Code Talker. In October 2010, documentation was provided that also identified Orville Wadsworth as the 10th Hopi Code Talker.
During WWII, Pooyouma (38072901) was assigned to the ground staff at Group Headquarters in the 380th Bombardment Group.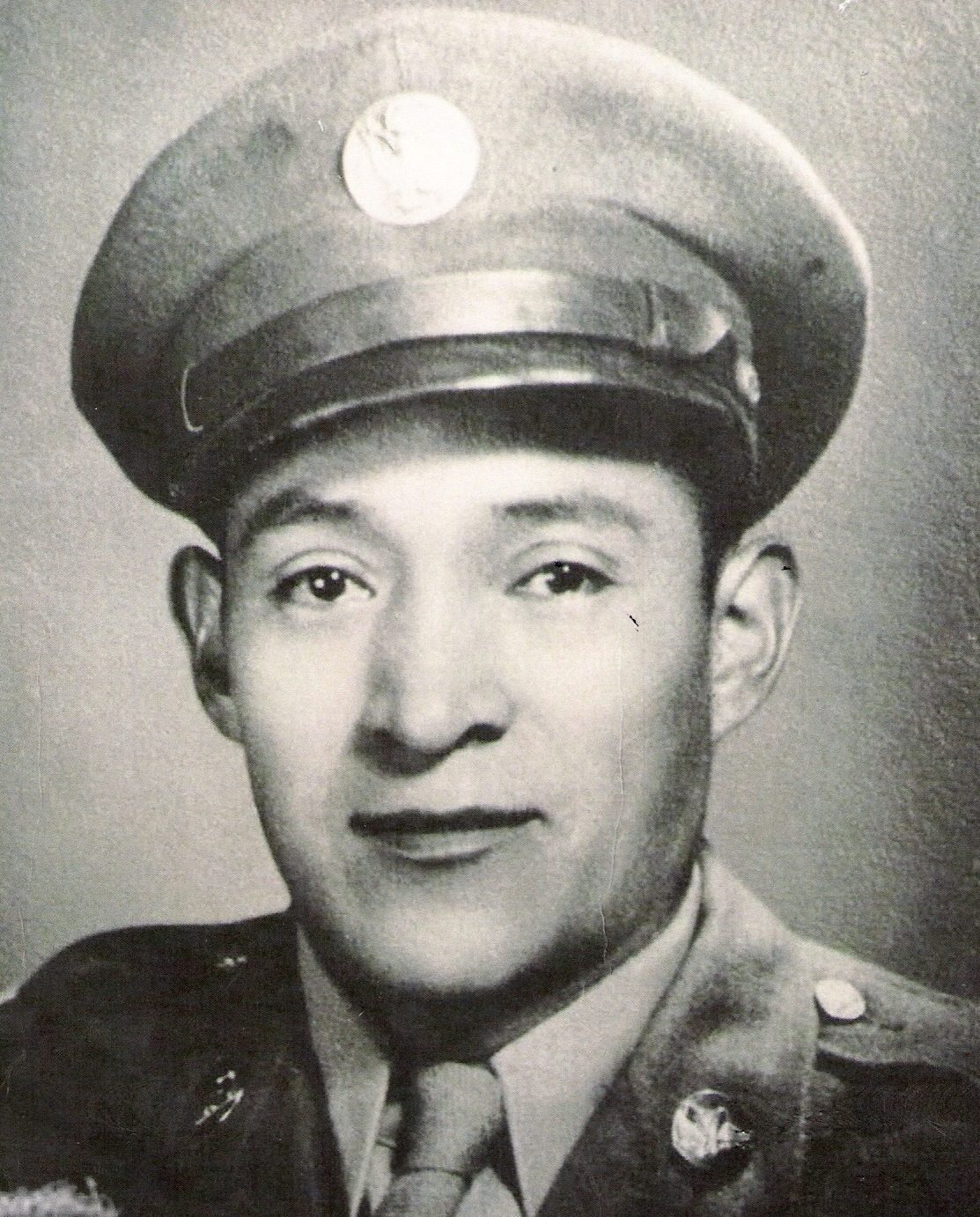 Rex Pooyouma
Wadsworth was assigned to the 90th Bombardment Group.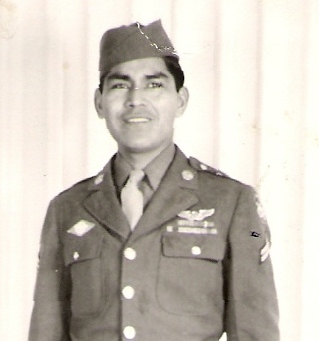 Orville Wadsworth
Both were selected and trained as part of a secret Native American Code Talker communications network to transmit secret-coded messages using their Hopi Lavayii in the Pacific campaign.
Mr. Rex Pooyouma and Mr. Orville Wadsworth were honored at the 2011 Veteran's Day observance on November 11, 2011, at the Hopi Veteran's Memorial Center, Kykotsmovi, Arizona. The Hopi Code Talker Recognition Day is now an annual event held each year on April 23 at Kykotsmovi, Arizona.
On November 20, 2013, in Emancipation Hall at the U.S. Capitol, 33 tribes were recognized for the dedication and valor of Native American code talkers to the U.S. Armed Services during World Wars I and II. Of the tribes recognized, 25 were presented with their Congressional Gold Medals. To see the medals, go to: Code Talkers Recognition Congressional Medals Program, U.S. Mint: http://www.usmint.gov/mint_programs/medals/?action=codeTalkers&tribe=Hopi
For more information:
Arizona Senate Concurrent Resolution 1009: Honoring the Hopi Code Talkers for Their Substantial Contributions to American History and Military Success, First Regular Session, 2011: https://www.azleg.gov/legtext/50leg/1r/bills/scr1009s.htm
"On day dedicated to Native Americans, a move to honor Hopi Tribe's code talkers," by Griselda Nevarez, Cronkite News Service, 20 January 2011: https://azcapitoltimes.com/news/2011/01/20/on-day-dedicated-to-native-americans-a-move-to-honor-hopi-tribe%E2%80%99s-code-talkers/
"Hopi Code Talkers recognized by state senate," by Louella Nahsonhoya, Navajo-Hopi Observer, 25 January 2011: http://www.navajohopiobserver.com/main.asp?SectionID=74&SubSectionID=114&ArticleID=13285
"Honoring Arizona's Hopi Code Talkers Ceremony - 23 May 2011: https://beyondthemesas.com/tag/hopi-code-talkers/
"Hopi Code Talkers Honored," Indian Country Today Media Network Staff, 24 May 2011:
http://indiancountrytodaymedianetwork.com/2011/05/24/hopi-code-talkers-honored-35469
"Inaugural Hopi Code Talkers Recognition Day held," by Sgt 1st Class Joel Quebec, 26 April 2012:
http://www.army.mil/article/78728/Inaugural_Hopi_Code_Talkers_Recognition_Day_held/
"Hopi Code Talkers Day Recognizes Hopi Veterans," by Crystal Dee, the Hopi Tutuveni, 7 May 2013:
http://www.hopi-nsn.gov/wp-content/uploads/2013/05/5-7-2013_Vol.21No.9.pdf

"Hopi Code Talker Recognition Day," by Mihio Manus, the Hopi Tutuveni, 6 May 2014:
http://www.hopi-nsn.gov/wp-content/uploads/2014/05/5-6-2014_Vol.22No.9.pdf
"2015 Hopi Code Talkers Recognition Day," by Louella Nahsonhoya, the Hopi Tutuveni, 5 May 2015:
http://www.hopi-nsn.gov/wp-content/uploads/2015/05/5-5-15_Vol23-No9.pdf3_.pdf
"Army Veteran's visual tribute to Hopi code talkers earns national recognition," by Stacie M. Rivera, Veterans Health Administration Office of Informatics and Information Governance, 24 May 2017:
https://www.blogs.va.gov/VAntage/38313/army-veterans-visual-tribute-hopi-code-talkers-earns-national-recognition/
Notice of Rex Pooyouma's Passing
Presentation to the 380th Bomb Group Reunion Attendees, November 3, 2018 (Eugene Talas, Hopi Veterans Services) -- By permission and courtesy of Hopi Veterans Services, The Hopi Tribe
U.S. MINT CONGRESSIONAL MEDALS:
The U.S. Mint has a series of bronze reproductions of the Code Talker medals that Congress awarded to the various tribes that had code talkers serving in WW2. The collection includes the Hopi Congressional Medal. They are in both 1/1/2-inch or 3-inch diameter sizes. Link: https://catalog.usmint.gov/medals/code-talkers/#pmax=25.00&pmin=0.00
380th Bomb Group Association newsletter articles:
News48.pdf
News49.pdf
News50.pdf
News52.pdf
News53.pdf
News55.pdf
News57.pdf
News60.pdf
News66.pdf
HOPI CODE TALKER RECOGNITION DAY EVENTS:
Click here for the program from the 2017 Hopi Code Talkers event: April 21, 2017
Click here for the program from the 2018 Hopi Code Talkers event: April 27, 2018
2018 Hopi Code Talker Event Presentation -- Used by permission and courtesy of Hopi Veterans Services, The Hopi Tribe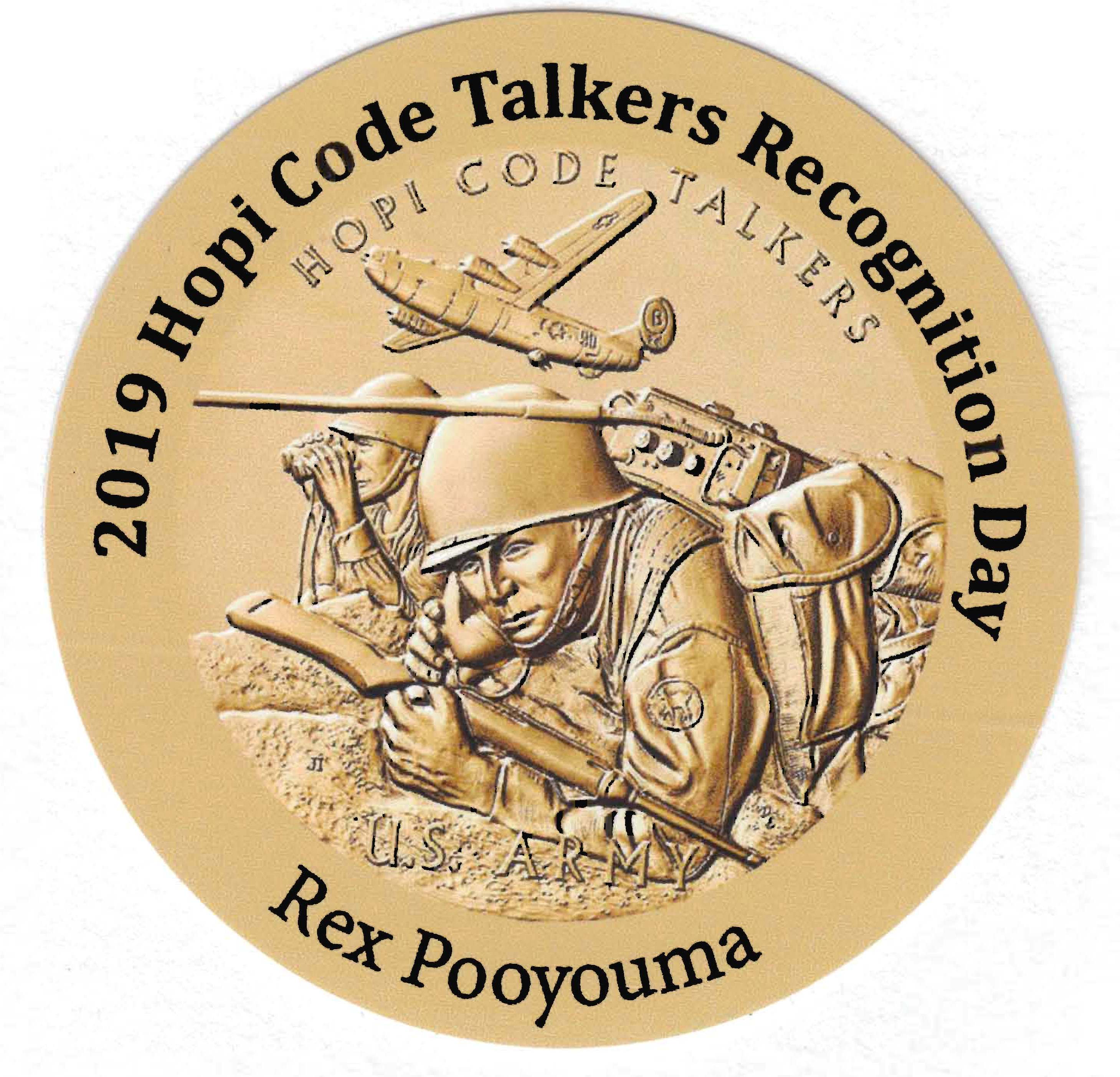 Click here for the program from the 2019 Hopi Code Talkers event: April 23, 2019
Keynote Speaker: Barbara Gotham, 380th Bomb Group Association
Presentation
Presentation Notes
---
Last Updated: 21 May 2019