380th Bomb Group Association

NEWSLETTER #20 -- August 2004
---
BLAZING BOMBARDIER WITH HIS 30 CAL. MACHINE GUN
by Bill Bever, son of Everett D. Bever
---
Little did 2nd Lt. Everett D. Bever, Bombardier on the "Heavenly Body" know that he would be attempting to shoot down his own B-24 out of the sky on his 15th mission. Lt. Bever was assigned with the 5th AAF, 380th Bomb Group, 528th Bomb Squadron at Fenton Field in Australia. It was on a Sunday, April 23, 1944, that the 528th Bomb Squadron was in formation with five planes heading for Noemfoor Island to bomb Namber AlS. Lt. Bever upon approaching his target, released 15 120 pound clusters offrag bombs on Namber AlS. As soon as the bomb run was completed their formation was intercepted by 20 or more Japanese (Oscar) fighters.
Lt. Bever writes in his diary that during the grim battle which lasted 59 minutes, two of the bombers in formation lost an engine and that his plane received 35 holes. He mentions he got in many good licks with his 30 cal. machine gun. What he does not mention was that in the heat of their air battle while manning the right side socket .30 cal. machine gun, a Japanese Oscar fighter was coming in at 9 o'clock on the left side so he moves the .30 cal. machine gun from the right side socket to the left side socket, but forgets to let go of the trigger, spraying the anti-glare panel up above with many holes. The pilot, seeing all the holes appear in the anti-glare panel, called down to the bombardier and nose gunner to make sure they were alright thinking they were injured. They bo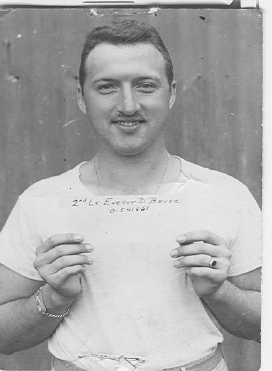 th acknowledged they were okay.
After the 12 hour and 15 minute ride to and from the target, they returned to Fenton field with all five bombers shot up pretty badly. In the meantime, Lt. Bever keeps his silence about his blazing 30 cal. machine gun. The ground crew starts their endless patch work, repairing the many holes in the "Heavenly Body" when they discover that the holes in the anti-glare panel have been caused from inside the plane protruding out. An investigation finds an embarrassed Lt. Bever confessing that in the heat of battle he failed to let go of the trigger when transferring the .30 cal M.G. from the right socket window to the left side socket window. Lt. Bever received a lot of razing as his attempt to shoot down his own bomber failed, but all were safe and back to Fenton Field to get ready for their next mission to clear out a path of Japanese in support of helping General MacArthur's troops take New Guinea.
My Dad, "The Blazing Bombardier" passed away on March 13,1996. I wanted to share one of his WWII experiences with the "Greatest Generation" that ever lived.
---