380th Bomb Group Association

NEWSLETTER #24 -- September 2005
---
LETTERS
________________________
NEWS FROM DOWN UNDER
---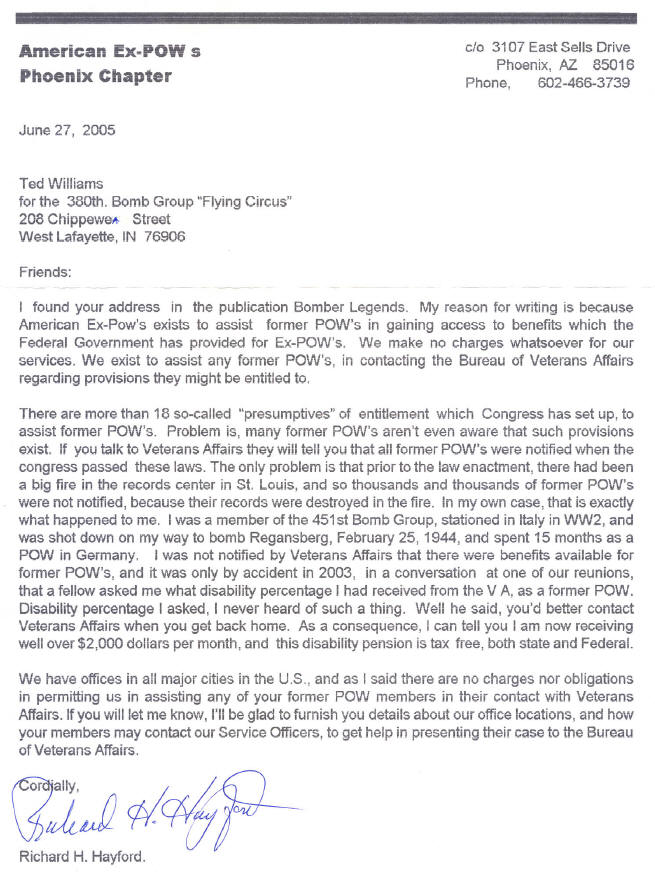 ---
We received the following message from Australia. We've asked Mr. Atkinson to send photos and a story for a future newsletter!

Sent: Friday, August 26, 2005 8:49 PM

Dear Sir,

I came across your site whilst researching B24 Beautiful Betsy. A number of friends and myself are planning a trip into the crash site on Tuesday September 6th. We are all ex servicemen most with active service in Vietnam as either Infanteers or Artillery gunners. Our party will be no more than 8 in number and at the crash site we plan on raising the United States Flag and the Australian flag. playing Taps, followed by the Last Post, reading out the names of those lost, a minute silence, then we shall all sit and drink a cold beer with your old buddies in the Queensland bush.

Lest we Forget. I shall send photos and a report on our return. With deepest respect,

Ian G. Atkinson
ex 2nd battalion Royal Australian Regiment
MOOLOOLABA - QUEENSLAND
AUSTRALIA

- - - - - - - - - - - - - - - - - - - - - - - - - - - - - - - - - - - - - - - - -

UPDATE received September 12th:

From: foxhound@ourbrisbane.com [mailto:foxhound@ourbrisbane.com]
Sent: Monday, September 12, 2005 2:12 AM
To: Gotham, Barbara J.

Subject: RE: Beautiful Betsy

Dear Barbara, successfully reached Beautiful Betsy last Tuesday 6 Sept . Heather my wife has commenced to construct a small site at

www.users.on.net/~theakkos/betsy -- it has no captions or text at this time but will have soon. In the interim, one of our team has requested that you inform any old friends or family of the lost crew that he and myself are prepared to act as guides and drivers if they wish visit the crash site.
---
We also received a letter dated August 19th, from
Wayne Shearsmith
27 Coniston Road
Kettering, Northants, NN16 8UL, England
Email: paulshearsmith@btinternet.com
He's desperately trying to obtain original 531st Bomb Squadron and 380th Bomb Group patches (as worn on A-2 flight jackets), to complete his set of 380th Bomb Group insignia. He's asking if any 380th veterans who would be willing to part with a 531st squadron patch, he would be most willing to pay $275 for one, and would also be prepared to pay $275 for a Group patch. He has collected these insignia for 15 years, and treasure every one, so you can be assured that if he can obtain these two patches, they would be well looked after.
Anyone interested should contact Wayne directly.
---
Return to Newsletter #24 Topics page
---