380th Bomb Group Association

NEWSLETTER #26 -- March 2006
---
OUR AMAZING TRIP TO FENTON
by Bill Shek
---
Fenton, Australia, 2005
My father, William Shek, assigned to the newly formed 380th BG, 528th BS, initially trained in the B-24 Liberator at Biggs Field, Texas. When the Group deployed overseas in early 1943, he piloted his B-24 "Dauntless Dottie" (named after my mother) (pictured below) to Northern Australia and Fenton. He would pilot "Dottie" throughout most of 1943, returning to the States in 1944. After the war ended he briefly left the military, rejoining when the U.S. Air Force was officially created. He remained in the Air Force as a career officer and pilot. He and my mother passed away in 2003.


DAUNTLESS DOTTIE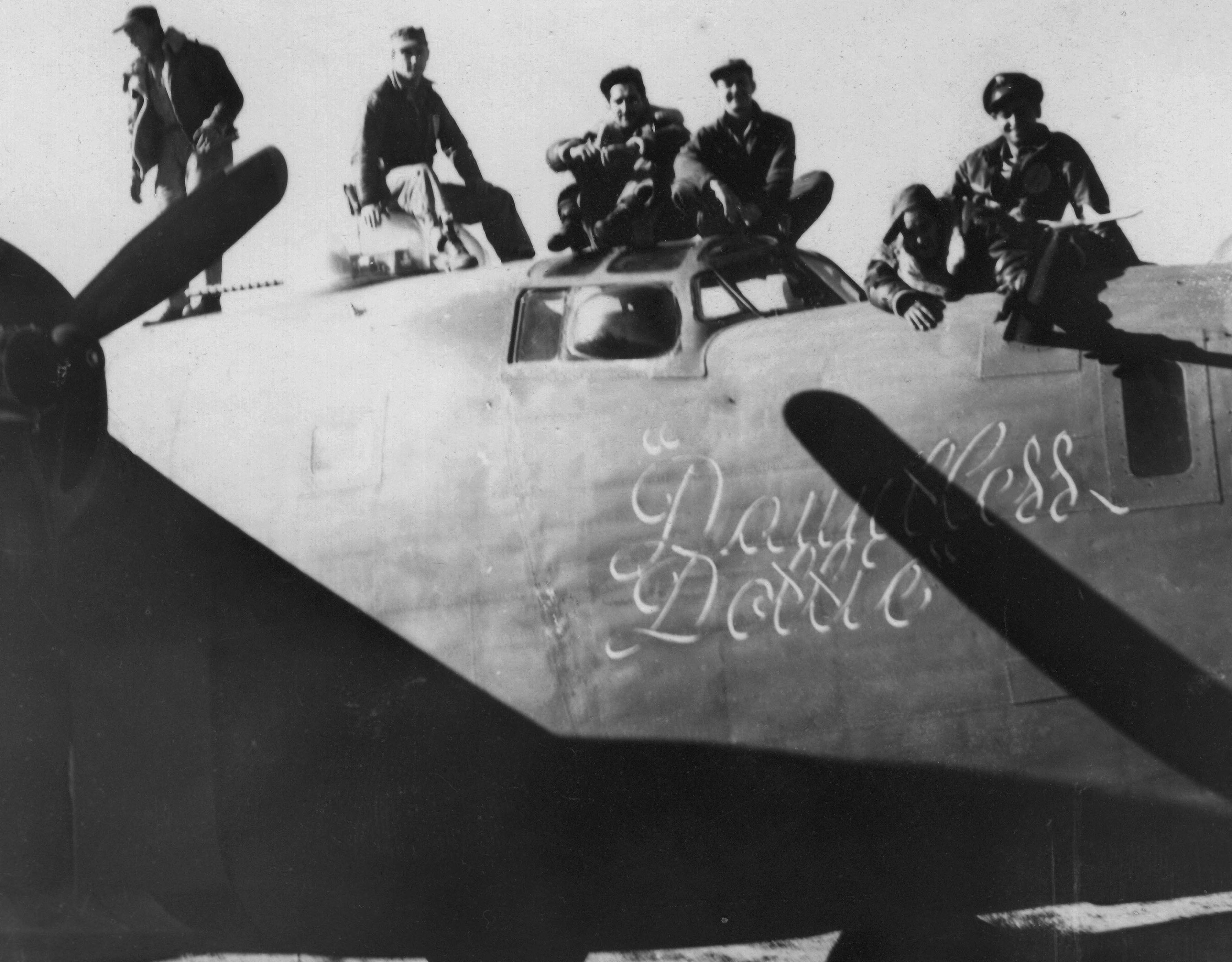 Shek Crew
Dad never spoke much about his war experience, but he never lost his fascination with Australia. He had saved a collection of b/w photographs from his time there, consisting of Fenton camp scenes, mission strike photos, and 380th BG B-24s with their nose art and crews. My mother also kept a scrapbook in which she had saved wartime newspaper clippings and official letters and telegrams about Dad. I grew up often looking through those photos. I organized the collection and scanned the photos and clippings onto disk. I also began to research the 380th BG and squadrons at Fenton and Long, wanting to know more about Dad's time there. For some years I had harbored a 'fantasy' that one day I would visit Fenton and the more I studied the photos the more I wanted to go. Finally, in early 2005, I decided that I had to do this. I phoned my sister, Diana, to ask if she wanted to go with me. She said yes before I had even finished the sentence! So, plans were made and in late August, 2005, we flew to Australia.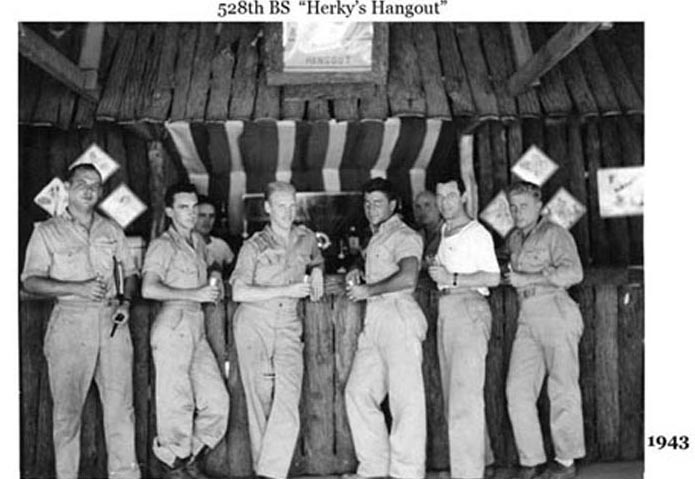 Left to right: Joe Roth, John Calhoun, Jack Banks, Bill Shek, Louis Caine, and Lester "Chick" Leuhring
During my research, I had often emailed Ted Williams of the 380th BG Association. He was extremely helpful, answering my many questions. When I told him of my plans to visit Fenton he put me in touch with Bob Alford in Darwin. Indirectly, I came into contact with another Australian named Ray 'Doc' Doherty, who lives in Hayes Creek. Hayes Creek and The Hayes Creek Inn consist of an all-in-one motel/RV park/gas station/pub on the Stuart Highway (the main road between Darwin and Alice Springs), southeast of Darwin and a very short drive from both Long and Fenton Fields. Doc has lived there for many years and has extensively explored Fenton and Long, searching out and mapping previously unvisited, forgotten areas. He is licensed as a guide and conducts educational guided tours of the airfields for both foreign and Australian visitors--many of whom didn't know the bases existed--and many 380th veterans who have returned for a visit. He is actively and passionately involved in the continuing preservation of the areas as WW2 historical sites. Doc told me that he would be very happy to show us around Fenton and Long during our stay there.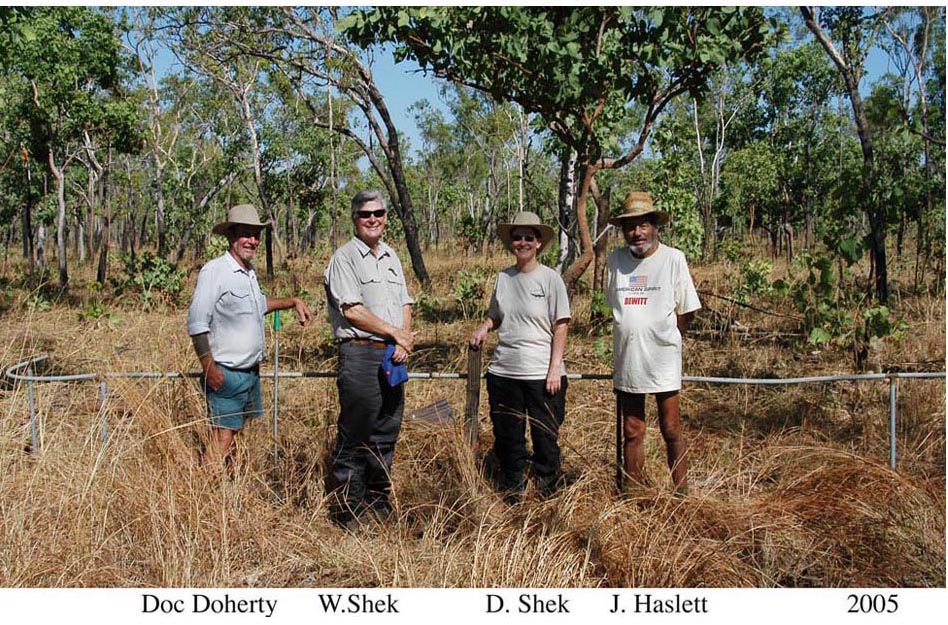 Diana and I left Los Angeles on a Friday evening, arriving in Australia on Sunday morning--we had crossed the International Date Line and "lost" a day. Our flight ended in Brisbane, where we connected with a flight to Darwin. In flight I had my first look at northern Australia. The vast emptiness of the land was impressive--true wilderness. Our route skirted the north coast along the Gulf of Carpenteria. The colors of the water there are fantastic: blues, aquas, greens, and every shade in between. I tried to mentally put myself in a B-24 approaching that same coast in 1943, seeing the same beautiful scene. The seasons in Australia are opposite from ours here in the U.S. and Summer was just beginning: Darwin was clear and hot. It seemed strange that, being in the northern part of Australia, we were actually in the tropics -- again, opposite of the northern hemisphere. Another "opposite" is the driving--they drive on the "wrong" side of the road in Australia, which takes some getting used to. Darwin is an extremely interesting city, with much cultural and WW2 history, having suffered through several Japanese bombing raids. We spent 3 days seeing the sights then took a Greyhound Bus to Hayes Creek and into the bush. During the drive we caught sight of wild parrots, cockatoos and flocks of lorikeets, as well as a group of wallabies grazing in a field. This was Australia!
Doc was there to greet us as we stepped off of the bus. We checked in and had barely gotten our bags into our rooms when he asked if we were ready to go see some of Fenton. Not wanting to waste any time, we piled into his 4WD and headed out. Fenton and Long are designated as WW2 historical sites and the road in is well maintained. Once in, however, there are many dirt roads and tracks to the different areas and you have to do some walking to get into some of them. The realization that I was actually there hit me full-force when we came to a sign that said 'World War II Airfield--Fenton'. Then, continuing down a dirt road, we suddenly emerged onto the Fenton runway. At that moment all of my research and Dad's black and white photographs became full-color reality! The feeling was somewhat overwhelming and I had to just stand there for several minutes trying to take it all in. Here I was, actually standing where, 63 years earlier, my father had taken off and landed his B-24 countless times.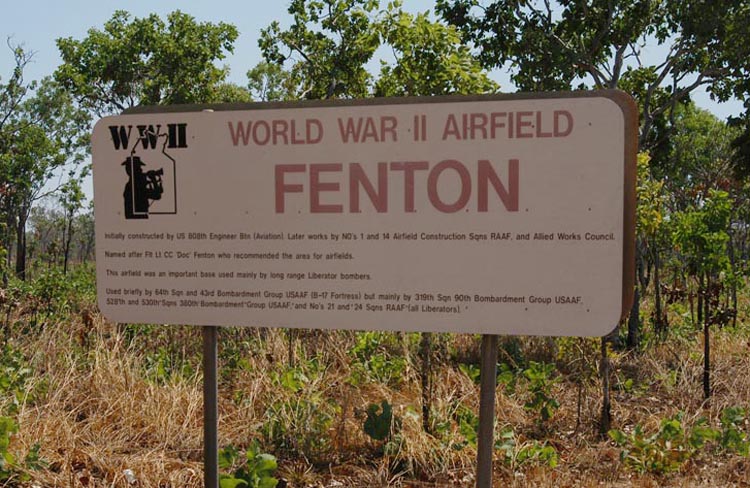 I was immediately struck by the great condition of the runway--it is clear of debris and vegetation and its original surface is still present and in good shape. The taxiways are still there--mostly dirt surfaced now--with the bush crowding their margins. The aircraft revetments and parking pads also still exist, but are somewhat overgrown. Standing on the runway in the heat and silence (it's very quiet there now) I imagined I could hear the roar of B-24s overhead.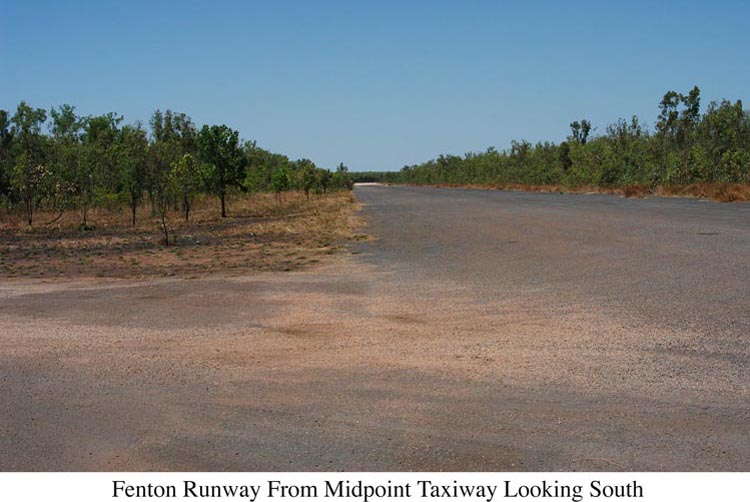 Over the next days Doc took us into areas of both Fenton and Long that he does not normally include on his regular tours. In addition to "Headquarters Hill" and the 4 squadron camp areas (the 528th and 530th at Fenton and the 529th and 531st at Long), we visited B-24 crash sites, trash dumps containing artifacts and many old beer bottles (a LOT of beer was consumed there in '43-'45), anti-aircraft gun emplacements, and a munitions dump which still contains live ordnance. Seeing live .50 caliber ammunition and several still-live Japanese incendiary bomblets lying in the dirt really got our attention: we stepped VERY carefully and touched nothing! Doc pointed out pieces of Japanese bomb shrapnel from air raids on Fenton and some bomb craters at Long. He even took us into an RAAF site at Fenton where his father had served. History was really coming alive for us.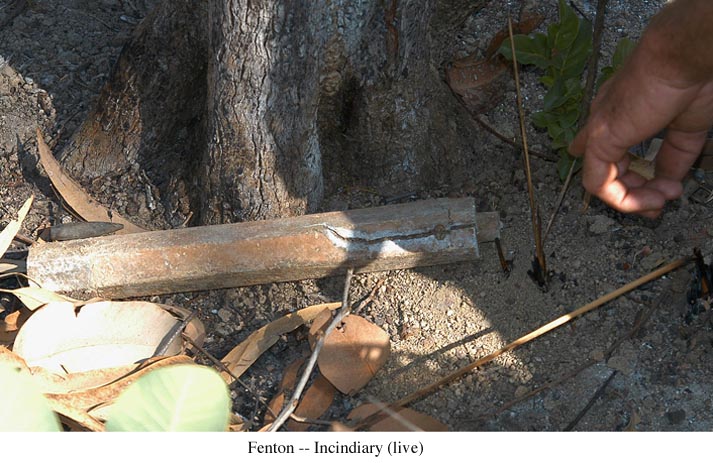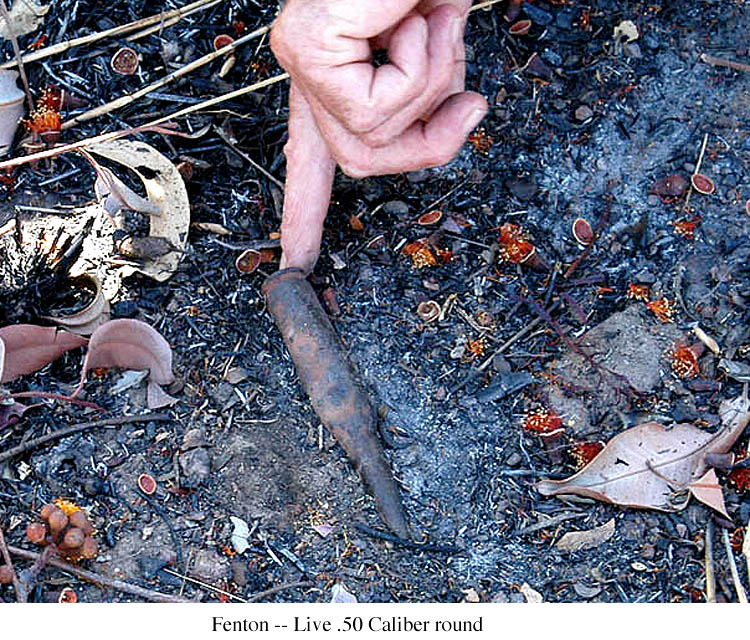 | | |
| --- | --- |
| I was particularly interested in the 528th BS camp area, as Dad would have spent a lot of time there. Of course, all of the tents and wooden buildings are long gone from all areas, but the concrete pads that they were set up on are still there. Corrugated metal sheets used in construction are scattered around the camps and old rusted 55-gallon drums are everywhere. The bush has taken over, but every year the Australian authorities set controlled brush fires throughout the Northern Territory to clear the grass and underbrush in order to prevent huge wildfires that can often occur in the dry season. The entire region is covered with Eucalyptus and Ironwood trees, which are unaffected by the fast burning fires. However, the swordgrass (which grows waist high and is impenetrable) and other brush comes back quickly. A burn had been done in the Fenton/Long region before we arrived, so it was fairly clear around the runways and in the camp areas. | |
| | |
| --- | --- |
| I had hoped to try to identify certain camp scenes shown in Dad's photos, but found it was an impossible task. Back then, the camps were clear of undergrowth, with tents and shacks everywhere. Now there are just the concrete pads, trees and brush. However, we are 99% sure that we found one site: the 528th BS Bar 'Herky's Hangout', which Dad helped build. A galvanized pipe railing still stands on a large concrete pad area in the 528th camp. It is about the right height and length to be a support for the wooden bar structure and a tree still stands at one corner shown in a photo. I believe that I stood in the spot where my father is shown standing at that bar in one of the 1943 photographs. | |
| | |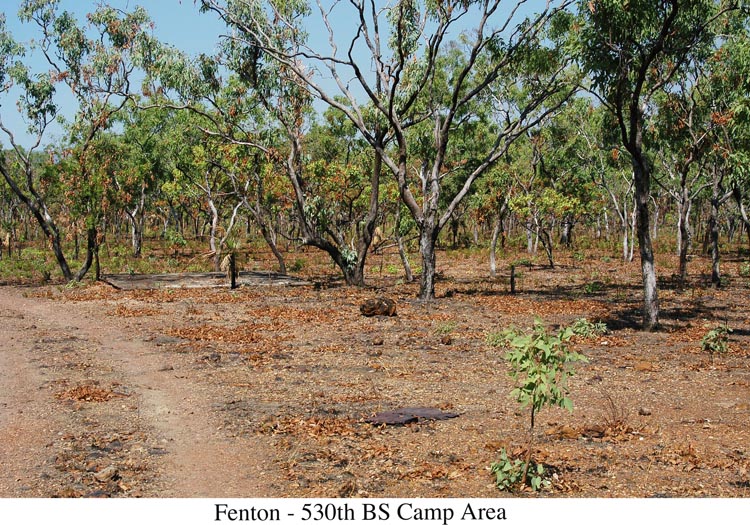 | | |
| --- | --- |
| Another area at Fenton, the 'Aircraft Graveyard' (marked by a sign) is where wrecked B-24s and their various parts were dumped. After the war ended and Fenton was abandoned, scrap metal scavengers (called "Scrappies" by the locals) moved in and many of the wrecked B-24s were picked apart and stripped for their aluminum. Even the Fenton runway tower was cut down. Over the years, visitors have also taken much as souvenirs. Although there are still large chunks of wreckage there, the 'whole' aircraft themselves are gone. Even today, though it is discouraged, some people come who are in the 'business' of artifact hunting. They spend entire days literally raking through the camp and dump areas searching for and collecting artifacts which they later sell. Doc told us that some of them have gone so far as to destroy artifacts still remaining after they finish with a site (especially old beer and coca-cola bottles) thinking to increase the value of their finds. It's so sad to think of historical items being taken or destroyed for no other reason than greed. | |

We visited three B-24 crash sites at Fenton and Long at which the aircrews had been lost with the aircraft: the site of "Nothing Sacred", the site of an RAAF B-24, and one just off the Long runway. Standing at these sites, seeing the wreckage still present and knowing that men had died there in their aircraft affected Diana and me deeply. It hammered home the grim reality of the dangers all of the personnel there faced on a daily basis. I thought also of those crews who took off on missions and never returned. It was a profoundly emotional experience which I will never forget.|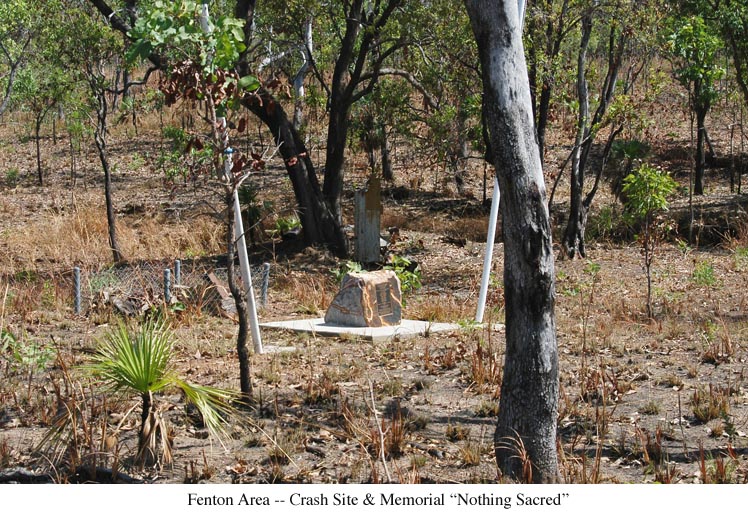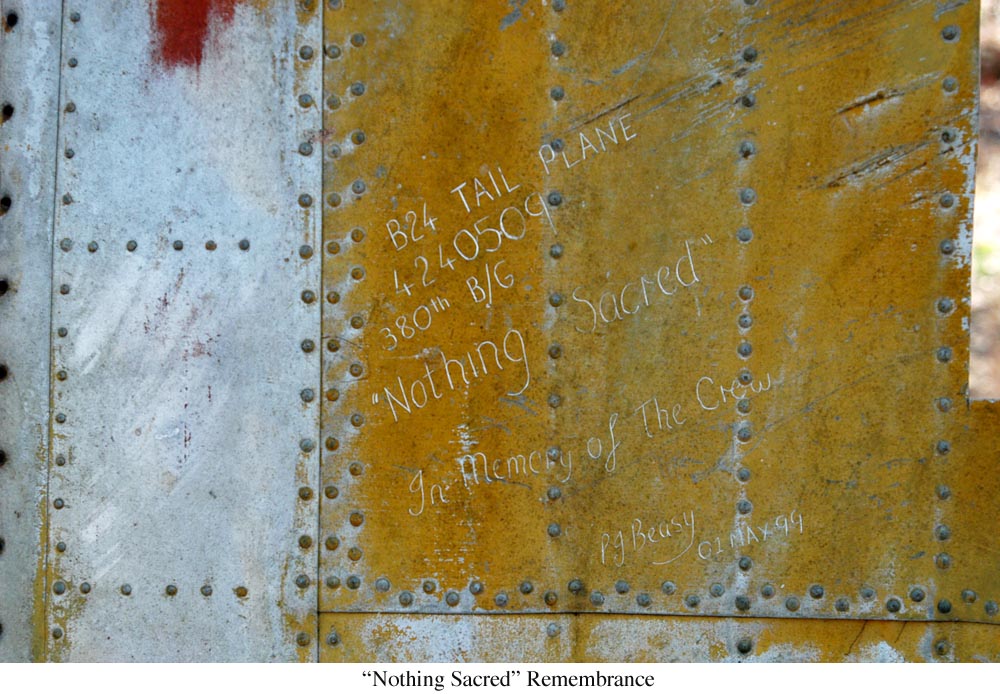 The Long runway is also still present, but is extensively overgrown with dense vegetation. The taxiways, revetments, and camp areas are also still there. I have since found out that a grant has been approved for the clearing of the Long runway. So, hopefully, it will soon be open and clear, although its surface is not in as good condition as Fenton's.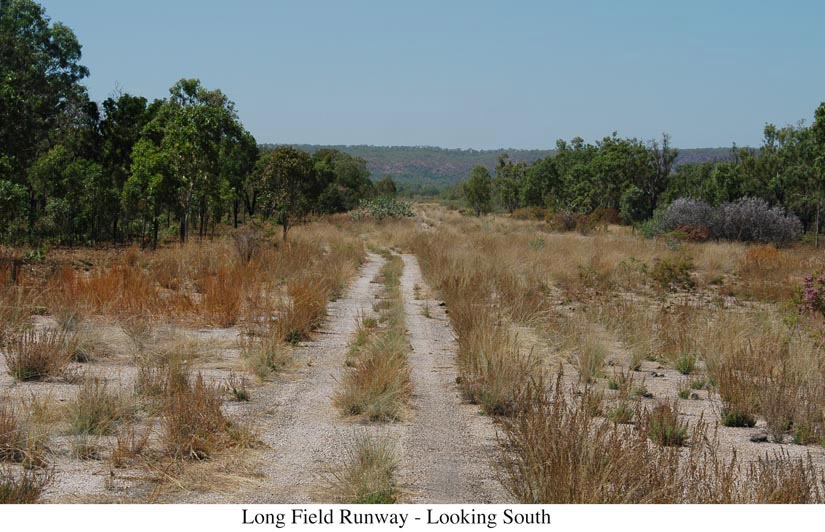 While at Hayes Creek, we were joined by two close friends of Doc's: John Haslett and Jason Efthymiades. John is another long time local whose knowledge of the area, its history and, especially, WW2 munitions, is absolutely encyclopedic. Jason is a young man from Darwin who has an enduring interest in the history of the area and has become very active in its preservation. Doc's knowledge is vast, but he often deferred to John on points of historical fact or identification of a site or a munition. John's stories of his past experiences often had us in stitches. He's quite a story teller! Without them, we would not have been able to see a fraction of either field. Their humor, knowledge and generosity are incredible.
The one thing that surprised me is the combined physical size of Fenton and Long--they encompass a vast area. The region is still remote and mostly uninhabited, much as it was in WW2. Unless you are very familiar with the airfields and their surrounding areas it is very easy to get lost, especially if you are on foot in the bush. The sun and summer heat are intense and you have to always be aware of where you step, especially at night and in the mornings, because of the presence of snakes, most of which are highly venomous. Luckily, we did not encounter any. There are actually pythons in the wild there! Unfortunately, the only one we saw was a road casualty--I would have loved to see one alive in the bush. In fact, the only wildlife we saw at Fenton was a wild pig in the 528th camp. A large cattle company (they are all called "cattle stations" in Australia) owns the land and is in the process of cutting cattle roads through and fencing parts of it. The company is aware of the historical significance of the area and is taking care not to impact any sites. They have granted Doc full, unrestricted access to these new roads, some of which, Doc said, have already opened up some previously inaccessible areas for exploration.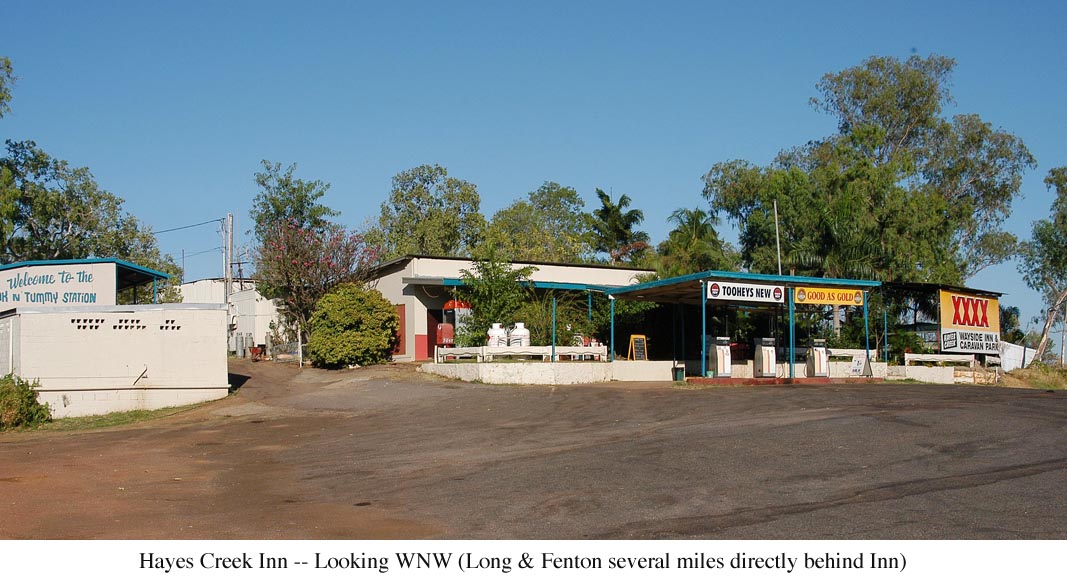 We had only 4 days at Hayes Creek, which was entirely too short--a month would not have been enough time. After Fenton, we went on to visit Sydney, then back home. Interestingly, we departed Sydney on Thursday morning at 8:30 a.m. and, 17 hours later, arrived in Los Angeles on Thursday morning at 7:30 a.m.. Twilight Zone? No, just that pesky International Dateline again.
I embarked on this trip in search of my father's war experience and came away with much, much more. I originally wrote this as a brief description of our visit to Fenton and what things are like there now. However, the experience has become greater to me than just a tour of a WWII base where my father was stationed. Being of the next generation, I did not personally know any of those men and women, nor have I had to face any of the fear, danger, loss and sorrow they experienced in those years. But now, after having actually walked where they (you) lived, worked, flew, and many times died, I begin to have an understanding of what my father and all of the other veterans went through. Both airfields are now silent and deserted, but far from empty--they are still crowded with memory and history, which you can feel. Prior to the trip I was fortunate enough to get a ride in a B-24. That experience also greatly enriched my appreciation of the aircrews who flew in them and the ground crews who maintained them. I am grateful to Ted Williams, Bob Alford, Doc, John, Jason and all who are working to keep alive the memory of WWII sites such as Fenton and Long and the people who lived that history. It has been a rare privilege for me to share your experience, limited as that sharing has been. I only wish that Dad could have accompanied us on our journey.
On second thought, I think he did.
William E. Shek, Jr.
---
Return to Newsletter #26 Topics page
---