380th Bomb Group Association

NEWSLETTER #27 -- June 2006
---
THIS AND THAT
---
CORRECTION
Mrs. Pat Roth has the following correction to the 528th Squadron's photo entitled "Herky's Hangout" contained in Bill Shek's article from our March 2006 issue:
The picture incorrectly identifies Joe Roth as Col. Miller. The others in the picture are:
Left to right: Joe Roth, Calhoun (no first name), Jack Banks, Bill Shek, Louis Caine, and "Chick" (Joe couldn't remember his last name).
Thanks, Pat! If anyone can identify "Chick" in this photo, please let us know!
---
CAN YOU IDENTIFY THIS BOMBARDIER?
This photo was shown recently (February 2006) on eBay. It was only labeled "Bombardier." If anyone can identify him, please let us know!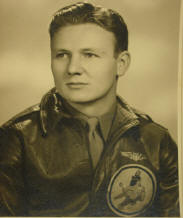 ---
Return to Newsletter #27 Topics page
---