380th Bomb Group Association

NEWSLETTER #30 -- April 2007
---
UPDATE ON ARMOR PERSONNEL OF 530TH
---



In our December 2006 issue (#29) was a request from Patricia Hicks asking for names in a photo she had from her Dad's (Robert T. Hicks) collection. Bob Rhoden responded in January with his corrections to Pat's photos. The photos with Bob's response are below. Thanks, Bob!
---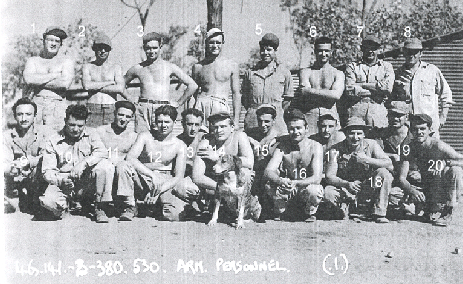 1. Myers,

2. Olin, Warren

3. McDonald, Mac (he volunteered as a waist gunner on Connery's crew)

4. Daiber, Conrad

5. Orlando, Frank

6. Ruch, Harold (power turret maintenance)

7. Helms, (Cotton)

8. Shine, Frank

9. Muccia, Joseph

10. Dziak, Nick

11. Williams, Robert (Cheety) (bombsight maintenance, guess he just happened by at the time!)

12. ? (Bob couldn't identify him)

13. Phanauf, Lucien (Rudy)

14. Hammond, (Hap)

15. Peacock, George 19. ? (Bob couldn't identify him)

16. Norton, James 20. Federoff, John (Big Chief)

17. Hicks, Robert

18. Snyder, Jimmy

The dog's name was Freddie.
---
---