380th Bomb Group Association

NEWSLETTER #30 -- April 2007
---

CREATING MEMORIES
---
Dave Peck, Chief, Fairfield Police Department, Fairfield, Connecticut, sent us an article about his dad which was printed in the Connecticut Post on November 11, 2006 (story by Andrew Brophy). Parts of that article are given here.
A VISION FROM THE PAST: Veteran, artist connects father and son
John T. Johnson, a ball turret gunner who flew 50 missions aboard a bomber in WWII, painted emblems on the nose cones of two bombers and the leather jackets worn by 10 members of his crew. Johnson was assigned to the 449th Bomb Group and 719th Squadron. He served on the B-24 bomber named "Lonesome," which flew missions over Romanian oil fields. Johnson's days of painting bomber nose cones ended with WWII, but he recently put his artistic skill to work again as a gift to the son of a WWII bomber who died 38 years ago.
Johnson gave Police Chief David Peck a leather jacket featuring an insignia he painted of the bomber group in which Peck's father had served during WWII. The insignia, painted on the back of Peck's jacket, features a lion swatting down an airplane above Japan, with the words "Flyin' Circus" and "King of the Heavies." Peck's father, Franklin L. Peck, died of a heart attack in 1968 when Peck was 12 years old. Peck said he never got a chance to talk with his father about what he did in World War II.
Several years ago, Peck decided to research his father's service and learned that he was a radio operator and machine gunner in the 380th Bomb Group and 531st Squadron. Peck said his father had a leather jacket from his service in WWII, and he decided to recreate that jacket as a tribute to his father. "I don't have a lot of memories of him. We did things as a family when we were younger, but I don't really have anything to tie onto, to hold onto," Peck said. "I thought this was a good way to keep his memory alive, and it's something I'll always have and pass on to my son." Peck couldn't find his father's leather jacket, but he did find two original Army Air Corps patches of his father's, which he put on the front of his leather jacket.
Peck knew Johnson's son, Thomas "TJ" Johnson, who also works for the Town of Fairfield, and his daughter, Betty S. Wolak, a classmate of Peck's in high school in the 1970s. When TJ heard Peck was recreating his father's leather jacket, TJ told Peck his father, John Johnson, not only served on a bomber in WWII, but painted leather jackets and nose cones in the war as well.
"What are the chances of that, someone who painted them in the war?" Peck said of the coincidence of finding Johnson. "The fact I was able to find a B-24 crew member who did this in World War II, it's quite an honor, and right in our town."
Franklin L. Peck, 531st, was the Radio Operator on Purinton's Crew - if any 380th members have any information on this crew and the aircraft that they flew, please contact Dave Peck at FDPCOP103@aol.com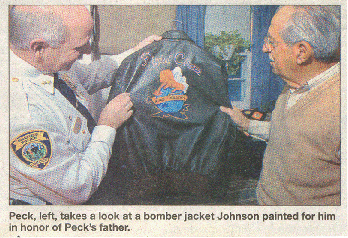 ---
---
---