| | |
| --- | --- |
| 380th Bomb Group Association | NEWSLETTER #31-- July 2007 |
---
MAIL CALL
---
From: George Gerards
Sent: Thursday, May 24, 2007 12:11 AM
To: Gotham, Barbara J.
Subject: Honor Flight
Barb: A friend sent me an email about "Honor Flight Network." Do you have any knowledge of this organization? It is an interesting project that they try to update some Veterans - especially those from WWII. For a one day free visit I would probably interested in for a one-day trip. TAKE CARE and THANKS -- George Gerards
______________________
From: Gotham, Barbara J.
Sent: Thu 5/24/2007 2:52 PM
To: George Gerards
George
I looked at their website, http://www.honorflight.org/index.htm, sounds interesting.
If you go, let me know, take pictures, and we can put it in an upcoming newsletter!
Stay in touch!
Barb
---
From: Jack Schofield
Sent: Saturday, May 12, 2007 9:34 PM
Subject: Battle Stars
Jack,
Barb has asked me to reply to your inquiry concerning Battle Stars on the Asiatic - Pacific Campaign Medal for the 380th Bomb Group. My analysis indicates the following:
1) Northern Solomons, Feb 22, 1943 - Nov 21, 1944
2) Bismarck Archipelago, Dec 15, 1943 - Nov 17, 1944
3) Western Pacific, Apr 17, 1944 - Sep 2 !945
4) New Guinea, Jan 24, 1943 - Dec 31, 1944
5) Leyte, PI, Oct 17, 1944 - July 1, 1945
6) Luzon, PI, Dec 15, 1944 - July 4, 1945
7) Southern Philippines, Feb 27, 1944 - July 4, 1945
8) China Offensive, May 5, 1945 - July 4, 1945
9) Ryukus, March 26, 1945 - Sept 2, 1945
10) Air Offensive Japan, April 17, 1942 - Sept 2, 1945
Best wishes, Ted Williams
---
From: Russ Wilsey
Sent: Fri 4/27/2007 2:35 PM
To: Gotham, Barbara J.
Subject: From B24-D manual
---
From:

Ted Williams
Sent: Mon 6/4/2007 11:42 AM
To: Ann Bishop
Cc: Gotham, Barbara J.
Subject: Re: 380th Bomb Group info

Ann,

Thank you for your information, as noted we have listed only the name of the first pilot to which each plane was assigned. Many other pilots, like your father did for NET RESULTS, would have flown them later. Our crew flew 16 different planes in our 36 missions. We only flew 16 in our assigned airplane, SAD SACK. The double use of 16 is a correct coincidence. Our information is the same as yours, that NET RESULTS was returned to the States and consigned to the Arizona Desert. These have been steadily reduced in number so we have no information as to whether it is still there. There are no lists kept of these. Best wishes.

Ted Williams

______________________

Ann Bishop wrote:

My name is Ann Netter Bishop and my father Lt. John C. Netter was with the 380th Bomb Group in WWII 528th Squadron. I was so happy to find your web site and the awesome project you are doing preserving this wonderful history. If my father were alive today, he would love this. His World War II service was truly part of who he was - a good honorable man. After the war he continued his service to our country and became an FBI agent. He died in 1984. I did want to give you a piece of information. My father's plane is not listed with his name. He was the pilot of "Net Results". I hope you can update your data sheets. I know this because he told me and I have photos of him with his plane..

I am particularly interested to know if Net Results is still in existence and if it is somewhere in the U.S. My son in-law is trying to find out if it might be at one of the airplane graveyards in Arizona or California. I would be very grateful if you let me know any information you have on where it might be.

Thank you again for this work you are doing.

Ann Bishop
---
From: Gotham, Barbara J.
Sent: Thu 5/10/2007 7:19 PM
To: Robin Kalhorn
Robin
Thanks for your email about your mother and her memories of the B-24 raids. And thanks for your kind comments about the 380th!
I'll look forward to hearing more about your online biography - please let me know when it is completed, so I can inform our association members about it.
Best regards,
Barb Gotham for the 380th Bomb Group Association
__________________
From: Robin Kalhorn
Sent: Tue 5/1/2007 2:06 PM
Dear 380th,
My mother Margie Samethini was a little Dutch girl living in Japanese occupied Surabaya, Java. She remembers the B-24 raids even though she was only 3 years old. Thanks for giving Tojo's boys a hard time in the Dutch East Indies. The Japanese inflicted many cruelties on my mother's family.
I will mention the activities of the 380th Bomb Group in my grandfather's online biography (a work in progress). He was a POW on the Burma Railway but his home was in Surabaya:
http://hansamethini.blogspot.com
Thank you, and God bless you!
Mr. Robin Kalhorn
Houston, TX
---
Letter from Roger Caputo, April 27, 2007
Dear Barbara:

For some time I've planned to advise you of some history of the various artistic symbols used to identify each of the four Squadrons and the Group. How these artistic symbols came into being and adopted is an interesting bit of history.

Ralph Finch, a member of the Group S-2, was a commercial artist from Massachusetts who did art work for the now obsolete match book cover industry and we were close friends.

While the Group was forming and training in the States, the Squadron and Group Commanders wanted some kind of pictorial identity symbols to paint on the aircraft and they turned to Finch to devise several pictorial options, which he did. After a time, final choices were made and they are the ones shown on the front of the Newsletters.

Finch deserves the credit!

In the 1950s, while on a business trip to Chicago, I had a great opportunity to visit with Finch, but that was the only time we were able to make contact post WWII! Finch was then back in the commercial art industry in Chicago.

Finch never attended any Reunion and I'm sorry to state I have no information concerning Finch after the mid 1950s.

Sincerely,

Roger Caputo
---
From: Steve Birdsall
Sent: Sun 5/27/2007 3:06 AM
To: Ted Williams

Dear Mr Williams -

I'm writing to share some background on a 380th Group member, Herman J. Dias, killed on January 19, 1944 when the 529th Squadron's 42-73187 was shot down.

Before joining the 380th, Dias flew at least 25 missions with the 43rd Bomb Group, and was aboard the B-17F Black Jack when it ditched off New Guinea on the way home from Rabaul. That was on July 11, 1943. The crew all survived the ditching, made it ashore with the help of native villagers and were picked up soon after.

I have Dias' Army serial number as 0729959, taken from a 5th Air Force Air Medal citation, while you have him as 0729954, but there's no doubt it's the same man.

I've attached a photo of the Black Jack crew on their return to Port Moresby. Herman Dias is second from the left as you look at the photo, wearing a leather jacket and holding a bundle under his arm. The fellow in the sarong (made from a parachute) is the pilot, Lt Ralph K. De Loach. The photo was probably taken by Joe Moore, the co-pilot on the Black Jack crew (my deduction, because he was there but does not appear in the photo). Ralph De Loach provided his original print to me, and it's not an AAF official photo.

Hope this is of some interest.

Regards -

Steve Birdsall
---
From: Jim Cernick
Sent: Tue 5/8/2007 1:07 PM
To: Gotham, Barbara J.
Subject: TAPS Ebbeson

Hi Barb,

Here is 528th Artist Dick Ebbeson's SSN death notice. I've been looking for his info for awhile. I tried to buy a painting of his from the Fifties, a nude, but lost the bid unfortunately, it clued me in to his whereabouts though. He died 15 Oct 2001 in Pembroke, Washington County, Maine.

The 380th Roster listing for Dick: Ebbeson, Richard A. | 528 | 31146645 | - | Ground Staff, Armament, Aircraft Armorer; Squadron Artist

TAPS notice: RICHARD A EBBESON, born 29 Apr 1912, died 15 Oct 2001, Pembroke, Washington, ME

In a separate email dated June 14th, Jim sent the picture here of Dick Ebbeson's "Bonnie the World famous cow" - it was done by Dick Ebbeson to show his style to a client is marked 1955.

Jim Cernick sent the photos here of Guy B. Smith, Assistant Flight Engineer, Goudelock Crew (29) and Mitchell Crew (34), and a crew in front of READY TEDDY. Guy is the 3rd or 4th from the left standing.

If anyone knows which crew this is and the crew's names, please let Barb or Jim know.

Jim Cernick - BARKINPIG@aol.com

Barb Gotham - 380th.ww2@gmail.com
---
On June 23rd we received email from Don Holmes enclosing some 380th aircraft photos that he found among his father's things (standard aircraft photos).
The only Holmes listed in our Roster are
Holmes, A. H. /| GP |/* 9026 (RAAF) | - | Ground Staff, Engineering, Maintenance, Engine Mechanic |
Holmes, Ralph W., Jr. /| 528 |/* O-568666 | - | Ground Staff |
Upon further questioning, he told me that his father was Cecil F. Holmes, that he knew that his father arrived in Australia in February or March 1942 and was an engine mechanic. He said he talked about repairing planes and of laying revetment when it rained in order to get the planes to the runway, so he surmised he was some type of ground crew at Fenton-Batchelor. There was a photo of his father with his head out a side window of SNAFU which appeared to be a crashed plane and the examiner stamp on the back stated NOT TO BE MAILED. From the many photos, a lot of revetment laying equipment and booms were evident. Don wonders if it possible that there was a permanent ground crew that stayed through out the war?
Ted Williams says our roster is complete, "so Cecil F . Holmes was never attached formally to the 380th. He could of course have been a visitor or with us on temporary duty. The 380th was briefly at Batchelor while Fenton was being completed when we first arrived. Maybe that is the connection, and he was attached to another Group there."
Some of the names listed on the back of Cecil's photos are:
Loudermilk, Jenkins, Jones, Red Davis, Flaherty, Fararr, Courtney, Jacksic, Hicks, Adams, Aycock, Cummings, Montaque, Schroeder, Biern, Weedman, Pauley, Triplett, Camez, Wright, Ingham, Kireaji, Oldroyd, Kenicly, Lt. Pressfield, Rowse, Thorton, Rimes, Grace, Rogan, Stafford, Lybarger, McCraw, Findley. Hudson, Galion, Saxon, Romano, Sabatini
If anyone remembers Cecil Holmes, and has any information for his son, please contact him by email at dwh5815@comcast.net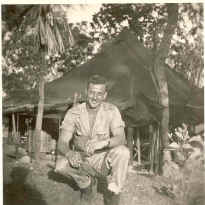 ---
From: Boris Loobkoff
Sent: Mon 7/2/2007 9:32 PM
To: Gotham, Barbara J.
Subject: 5th Air Force, 380 Bomber Group ,530 Squad inquiry
Ms. Gotham:
You have no idea how great finding your site is!! I've been looking and looking for several years and have finally found you. Your site is a great service !!
Maybe you can help with two final details of my search as follows:
An old friend gave me a flight jacket and a munitions box. The munitions box had JESS C. SORSOLI printed on it but the jacket had its name tag torn off. I was told both belonged to Jess. Thanks to you, the jacket's shoulder patch I now know is 5th Air Force. The breast patch is 530th squad of the 380th group. However, I can't find his name in any of your rosters. Any chance you can help me with finding out more about Jess, his service, stationing, and anything else??
I've restored the jacket to its former glory with new lining, etc. etc. but I can't find a breast patch that would present itself better than the original, which is torn, badly faded, and barely readable. Any suggestions?
Thanks ever so much for your efforts on this site.
Best wishes for the 4th,
Boris Loobkoff
1275 La Canada Road
Hillsborough CA 94010
karenboris@mindspring.com
If anyone can answer Boris' question, please send him a letter or email. Thanks!
---
Return to Newsletter #31 Topics page
---
Submit your requests to:
Barbara Gotham
130 Colony Road
W Lafayette IN 47906-1209
380th.ww2@gmail.com