380th Bomb Group Association

Newsletter 36 ~ Fall 2008
---
WHEN ADELAIDE WAS BOMBED BY ORANGES
Excerpts taken from an issue of W.W.II magazine
Submitted by Bill Bever
During the 380th Bomb Group's stay in Australia, the various bomb squadrons had to make supply runs to feed their airman and ground crews. Thus came about "the bombing of Adelaide," an episode attributed to a Liberator bomber carrying various items in its bomb bays .... oranges, booze, Coca Cola and so on. As luck would have it, the bomb bay doors "peeled off shortly after takeoff .... And gravity took care of the rest. Quite a sight it was to see case after case tumbling down, plus crates of oranges flying apart," recalled American Charles Edwards of the 380th Bombardment Group.
Below, a crate of beer landed in Mrs. I.F. MacDonald's backyard and a Coke carton "demolished" the roof of her washhouse. Oranges "showered down over the entire neighborhood." Amazingly, no one was hurt.
The 380th did not win a Presidential Unit Citation for this feat, but did win one for its lengthy missions over the Dutch East Indies, including the war's longest bombing raid before the advent of the B-29 "Super Fort." Operating the B-24 Liberator, the 380th lost 49 of its bombers in one year, and more then 260 men overall, before decamping from the Northern Territory .... No longer the vulnerable Northern Territory exactly because of such sacrifices by American, Australians and their various allies in the down under part of the world.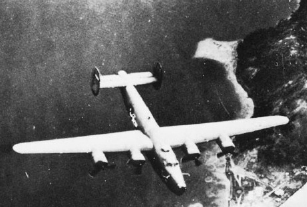 ---
Return to Newsletter #36 Topics page
Last updated: 10/13/2008 05:15 PM