380th Bomb Group Association

Newsletter 38 ~ Spring 2009
---
MAIL CALL
---
From: Bob Alford <bo.balford@hotmail.com>
To: Barbara Gotham <bjgotham@gmail.com>
Fri, Feb 20, 2009 at 4:30 AM
Subject: Russ Brooks
Hi Barb,
I got the last 380th newsletter when I arrived back home in Thailand from Darwin and saw the mention of Russ Brooks' death. Can I add an amendment please?
Russ was born on 25 August 1923 and later joined the RAAF, where he trained as a bomb aimer on B-24 Liberators. He was posted as a Pilot Officer to No. 24 Squadron, a part of No. 82 Wing based at Fenton in 1944. He flew missions over the Netherlands East Indies (Indonesia) including one against the power houses on Java and another against a Japanese naval force. Russ was bombing leader on a number of those missions. He also flew with 24 Squadron from Morotai and Palawan before being demobilised as a Flying Officer in 1945.
Postwar Russ and a business partner founded what became a very successful ceramic production business, and though Russ retired a number of years ago he maintained an active role in the company. He attended the 50th Anniversary of the B-24 Liberator at Fort Worth in 1989 and this led to his regular attendance at the 380th reunions where he and his wife 'Tiny' became firm friends of many of the 'Flying Circus' veterans and their families.
Russ passed away peacefully on 25 October 2008.
Aaaand that's all. I suspect Russ's details are also in the volumes WE WENT TO WAR that Ted compiled with Russ' and my help.
Cheers,
Bob A.
---
From: Steven W. Whaley
Thu, Jan 29, 2009 at 10:08 AM
To: Ted Williams, Copy: Barb Gotham
Dear Mr. Williams & Mrs. Gotham
My name is Steven W. Whaley, and I'm writing a book about WWII and its lingering losses. Through my first book about my uncle who served on a LST (Landing Ship-Tank) in the Pacific, I met Arliss (Millikin) Hogue who worked at the Seneca shipyard in Northern Illinois. Her brother-Samuel Thomas Millikin-was MIA after the B-24 that he was on (Plane ID 42-40814 529
th Squadron) was lost on a routinue flight over the Owen Stanley range from Nadzab to Port Morseby, Papua New Guinea.
Samuel has three older sisters (Arliss, Dorothy, and Delight) all still alive and still missing him after all these years. They hope that he survived and that he has his own tribe in the mountains (he was a good looking young man). I'm hoping that someone in the association might have met Sam and had some memories about him that they could share. The B-24 that Sam was on was from the V Bomber Command Replacement Center and was piloted by Robert W. Tosch. I got this info from the TAPS section on your webpage for the 380
th.
Any contacts or info about Sam would be greatly appreciated including pictures, flight plans, etc. I plan on putting this info in my second book about my uncle, Dad, and stepfather who all served in the Pacific in WWII. There are still 80,000 MIAs from WWII, and I want people to know that they are still sorely missed. Thank you for your time.
Best Regards,
Steven Whaley
If anyone has any information on Samuel (Sammy) Millikin, please contact Barb Gotham or Mr. Whaley directly.

---
From: Steven Heinlein
To: Bill Shek
Date: Wed, 11 Mar 2009 12:17:14 -0000
Subject: 380 BG History ?
Bill,
I have a request for you. The wing built a new Flightline Dining Facility, and we received a "Name the Diner" idea submitted below. I was asked to find out more information about 1Lt Heet. I found the website http://380th.org/HISTORY/Group/GroupHQ-roster.html#H with lots of names and it appears the following two were the first Mess Officers.
Could you check with the 380 BG Association Historians (or other members) if they knew a 1Lt Donald Heet, Ground Staff, Administration, Group Mess Officer Nov '44? Also, Capt William Schiff was a Ground Staff, Mess, Group Mess Officer in Feb '44.
I'm also interested if anyone remembers these officers serving at Fenton Australia, or if not, then the name of the Fenton's Mess Officer. Or maybe someone knows if the Fenton's Dining Facility had a special name.
Thank you.
Maj Heinlein
Historian
380th Air Expeditionary Wing (AEW)
-----Original Message-----
From: Tracey A CTR 380 ECES/CEOP
Sent: Monday, March 09, 2009 3:54 PM
Subject: Roy's Diner Rename
Chief,
I think the name should be "D.G. Heet Diner" named after Heet, Donald G. 1LT, Ground Staff, Administration, Group Mess Officer 380th Bombardment Group (Heavy), Fifth Bomber Command, 4 Nov 44, Davis-Monthan Air Field.
This appears to be the first Mess officer for the 380th, ever!
Plus, "Heet" is a play on words for something this place has a lot of and let's face it ... This place has plenty of heat in the summer!!!!
Tracey
If anyone remembers Donald Heet and/or William Schiff, Mess Officers in 1944, or has other information on the Fenton Dining Facility, please contact Bill Shek or Barb Gotham.

---
From: Bob Meyers
To: Bill Shek (with copy to Barb Gotham)
Wed, Feb 18, 2009 at 7:27 PM
380th Bomb Group Presentation and "Witchcraft" Flight
Dear Bill
I read your letter in the last issue of the 380th Bomb Group Association newsletter (Winter 2008/2009) in which you extend a kind offer to provide a copy of your presentation to the 2008 Association Reunion and of a video of your B-24 flight. My wife and I gave my father a membership to the 380th Bomb Group Association and he enjoys reading the newsletter very much. I'm sure he would also enjoy viewing the presentation and video as well. Dad (Waldo W. Meyers) was a radio operator/mechanic in the 528th squadron (Corrado's Crew). They had to bail out of "Daddy of 'em All" into the Sulu Sea on July 1, 1945.
Dad and I just got back from a visit to Chandler, AZ, where he re-united with Herman "Rudy" Corrado and his lovely wife after 60 years. Several of their neighbors asked if they could just listen in while the two of them recounted their experiences in the South Pacific. It was a truly gratifying experience to witness these two extraordinary gentlemen share memories of a momentous time in their lives and in our history.
Please let me know if there is anything I need to send you (shipping/handling/etc.) for the materials. Our mailing address is: Waldo W. Meyers, c/o Robert Meyers, 212 Mountain Drive, Pittsfield, MA, 01201.
Thank you very much for your generosity.
Bob Meyers
P.S. - I have attached a photo of Dad and I in front of "Witchcraft" when it visited Pittsfield in October of last year.
___________________________________________________________
Thu, Feb 26, 2009 at 10:55 PM
Hi Barbara
Dad said it would be fine for you to use the email and photo. (I gave him your best wishes.)
He noticed in the Winter 2008/2009 newsletter that the newsletter sent to William C. Tiernan had been returned. Dad is hopeful that someone will respond to your request for an address and it will show up in a future newsletter. "Wild Bill," as he was called by Dad and pilot Herman "Rudy" Corrado, was the crew's copilot and apparently quite a character. Dad described one occasion when he was called on the carpet for buzzing the mess hall so closely on a practice flight that rust from the metal roof fell on all the tables and floor inside. Dad had tried unsuccessfully before to locate him and would love to make contact with him again.
Thank you for the good work you do. It must be gratifying to know that your efforts mean so much to a very special and deserving group.
Sincerely,
Bob Meyers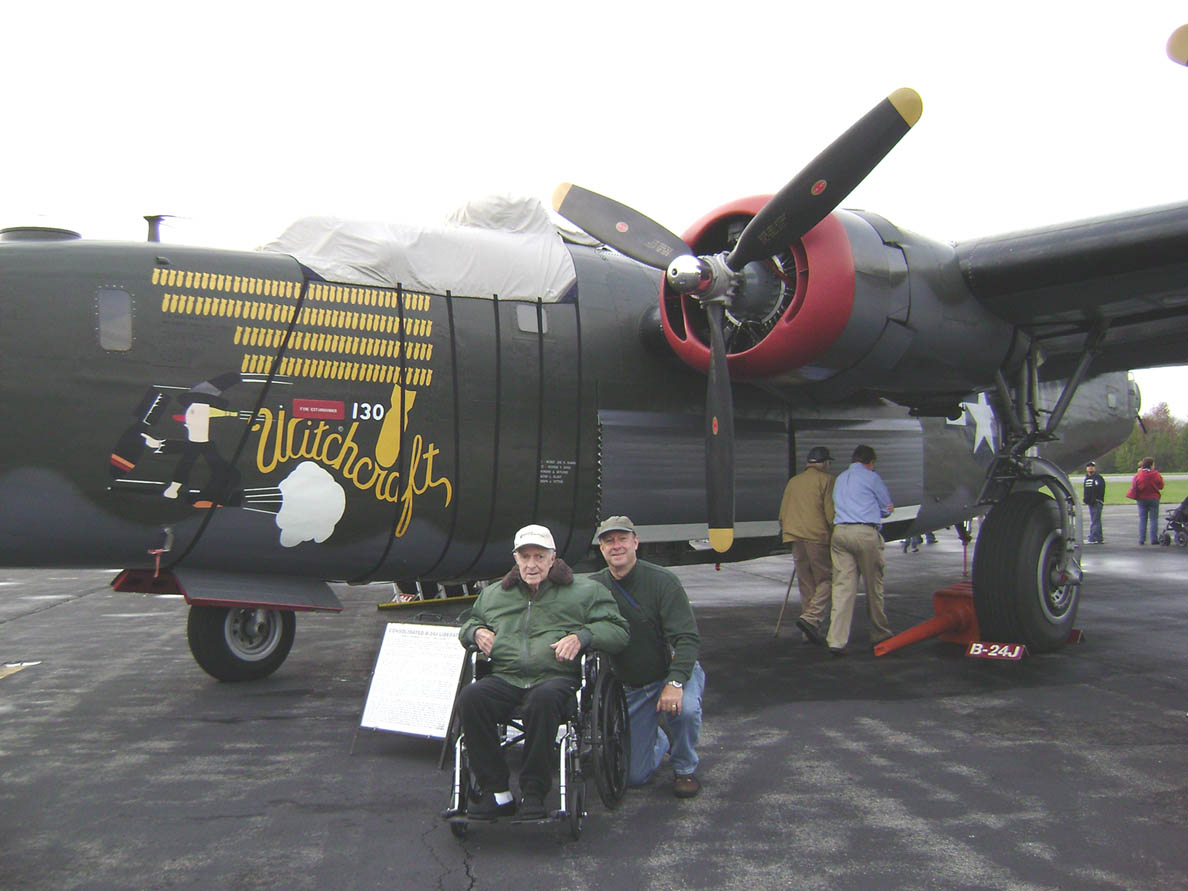 ___________________________________________________________
Sun, Mar 1, 2009 at 1:15 AM
Subject: Waldo Meyers and Rudy Corrado
Hi Barb
I received a nice card today from a couple in Chandler (neighbors of Rudy and Norma Corrado) that listened to Dad and Rudy's remembrances when we visited last month. They enclosed photos of the two of them. It made me think that if you were going to include my earlier email in a future newsletter, you may also be interested in a photo of Dad and Rudy. I have attached one in case you want to use it. Waldo is on the left Rudy is on the right.
Take care, Bob Meyers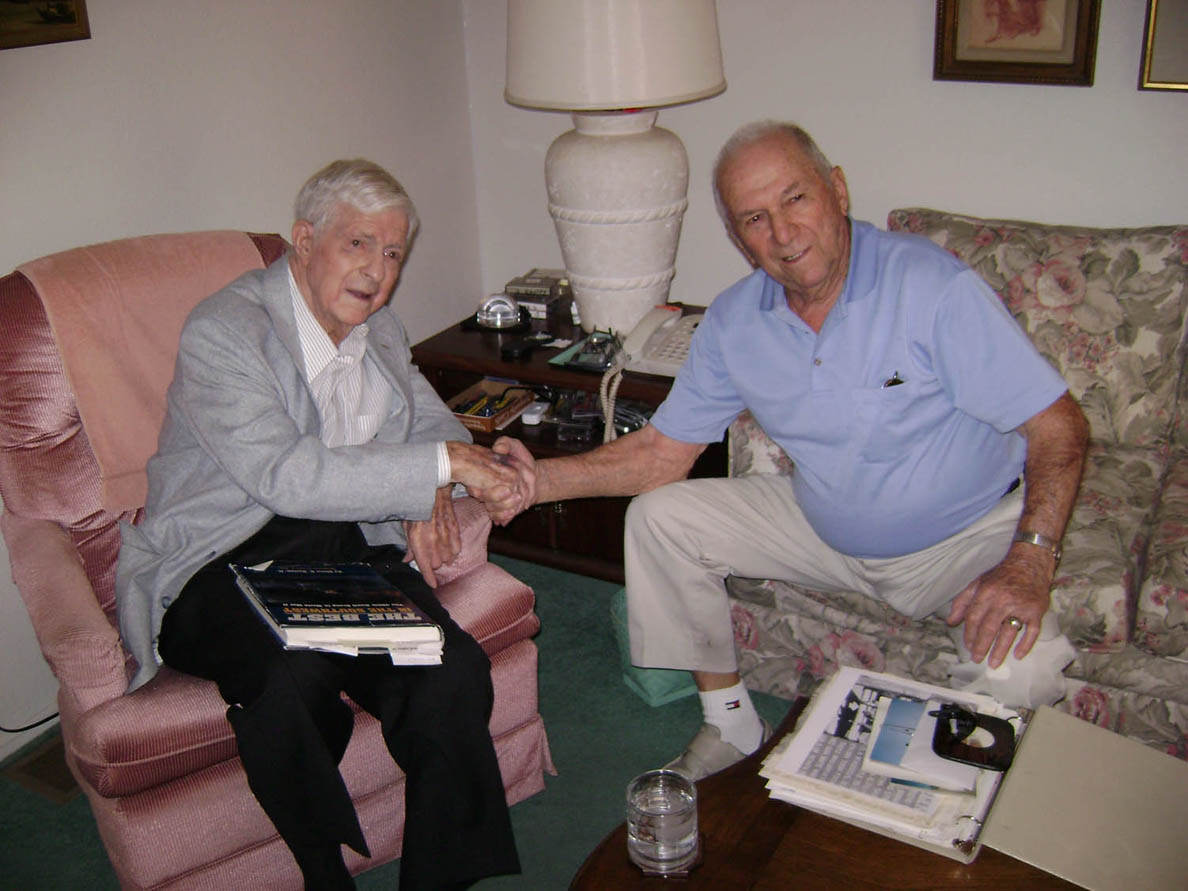 ---
WWII REGISTRY

April 6, 2009

It would be good if we had a list of 380th personnel that are listed.

Bill Shek is listed.

Bill Casselberry

(Go to the Photo Gallery of this newsletter to
see a better picture of Bill from WWII)

|
IF YOU KNOW OF ANY 380TH MEMBERS LISTED IN THIS REGISTRY, PLEASE LET US KNOW SO A LIST CAN BE MADE OF THEM.

If you have time and would like to check which of our members are listed in this registry, please let Barb Gotham know - she can give you a list of members to check!
National WWII Registry
The memory of America's World War II generation is preserved within the physical memorial and through the World War II Registry of Remembrances, an individual listing of Americans who contributed to the war effort. Any U.S. citizen who helped win the war, whether a veteran or someone on the home front, is eligible for the Registry.
To search for veterans in the registry or to add an honoree, go to:
---
From: Dick Dow
To: Bill Shek (copy to: Barbara Gotham)
Date: Thu, 26 Feb 2009 14:15:23 -0800
Subject: My uncle Lt. Wilbur Morris 380th/530th "Red Ass" pilot
Dear William,
I went to the 380th Org news site this morning find a place where I could report the death of my uncle Wilbur Morris at 3:00am this morning. You mentioned Redding, CA as the home of your father at one time. My uncle lived in Fortuna, CA, which is almost due west of Redding and is near the coast. My uncle was one of the original members of the original 380th BG. His crew was the only crew from the 530th Squadron, maybe even the 380th BG, to be shot down, captured and to spend 22 months in POW camps in Japan, including Zentsuji and Rokuroshi where he was repatriated on Sept 5, 1945.
I was fortunate enough ten years ago to be watching an interview with Steven Ambrose talking about the declining number of WWII veterans and the importance of preserving their history. I have gotten wonderful accounts by my uncle and a tremendous amount of other information from the internet. I thought I might be able to compile all of the information for my family members before his passing, but I failed. He has a brother named Orval who is 96 and a sister (my mother) Leila who is 86. I really thought I had more time. Alas, no!
Wilbur would have been 90 in May. He was diagnosed with liver cancer in November. He hung in there for a few more months than had been expected. I intend to complete the organization of all the information I have gathered so far and send it to the remaining family members. Ironically, former Speaker of the House James Wright wrote a book called the "Flying Circus" that I purchased and read a few years ago. Wright's tent was adjacent to my Uncle's which is described in the book. When my uncle's plane (he was piloting "Little Joe" when shot down near the Kai Islands) crashed, his navigator Skuzinski was killed when the ball turret broke loose and crushed him in his seat. Skuzinski was the best friend and Navigator school classmate of James Wright. The two pet dogs that Morris and Skuzinski had in their tent were adopted by James Wright in their absence. Wright excitedly called me after a message had been forwarded to him by Ted Williams at Purdue Univ. I wanted to purchase a copy of Wright's book and have it autographed for my uncle. After speaking with Wright and giving him my uncle's phone number, he called him. It was a great gesture!
I'm really anxious to return to the work that needs to be done on my uncle's WWII service history and you have spurred me on. Thank you.
Thank you for your condolences and a special thanks to Ted Williams for his past help in my research. Wilbur Morris was a very special part of our family.
Dick Dow
Fresno, CA
If anyone has information for Dick Dow, please contact him by email at
dickdow@extch.com or contact Barb Gotham or Bill Shek who will relay your message.
---
Return to Newsletter #38 Topics page
Last updated: 05/13/2009 07:57 PM