| | |
| --- | --- |
| 380th Bomb Group Association | NEWSLETTER #4 -- September 2000 |
---
NEWS FROM AUSTRALIA
---
A PHOENIX ARISES*

PROGRAM OF A SERVICE OF DEDICATION OF B-24 LIBERATOR A72-176
Tuesday, August 15, 2000
Renovation Hangar, Werribee, Victoria

---

Australian National Anthem, RAAF Band
Introduction and Master of Ceremonies, F/Lt Peter Meehan
"The Importance and Legacy of the B-24," Kevin Swain, RAAF Veteran Hymn, "I Vow to Thee My Country"
"The History and Accomplishments of the Restoration," Colin Grey, Coordinator
Hymn, "What Service Shall We Render Thee"
"The Future Work and Needs for the Restoration," John Temby, President
History of B-24 in RAAF and Importance of the Restoration, Air Vice Marshal Smith, Vice Commander, RAAF
Dedication Service, Air Commodore Royce Thompson, Director General, Chaplains, RAAF
Anthem, " Swallow Your Fear," Scott Cargill, Sung by Janette Obuch
Hymn, "God Save the Queen"



* Title of an Australian Broadcasting Company TV program on the restoration.


---
A72-176, the B-24M Liberator renovated by the B-24 Liberator Memorial Restoration Fund, Inc., represents 10 years of effort by a group of Australian WWII Air Force Veterans and their younger compatriots. This plane has grown from a pile of corroded parts to a complete, recognizable aircraft. However, much work still remains to the done, since the group vows to produce an aircraft that could be flyable, but at the same time, promise it never will be flown because of its historical value.
While externally relatively complete, the plane is a shell, i.e., there are effectively no internal furnishings (equipment, hydraulics, controls, internal electrical wiring, etc.). Much of the necessary equipment is on-hand, and industrial firms have promised to supply the electrical wiring and hydraulic systems. Thus an additional two years is forecast before a truly complete aircraft has been obtained.
In addition, the Fund will soon lose its current home, the old hangar at Werribee. Plans are in place to build a new hangar at Avalon Airport nearby. Upon completion, this hangar will become a museum housing A72-176 and other B-24 related artifacts. Approximately $1,000,000.00 in new funding is needed to complete the task (build the hangar and finish the plane).
The Anthem for the Dedication Ceremony was universally acclaimed by the audience and promoted as the theme song for the Liberator Squadrons of Australia organization.
---
---

Pictures of the Plane
---
The nose turret is complete but must be reglazed and mounted. The bombardier's enclosure also must be fabricated.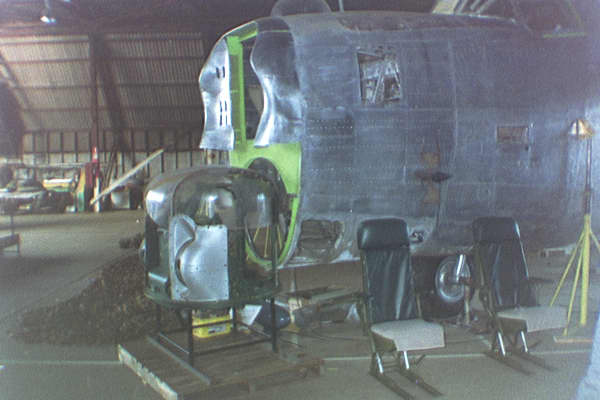 ---

Tail section of showing right rudder completed but left still needing fabric covering. The tail turret is completed but still needs glazing and mounting.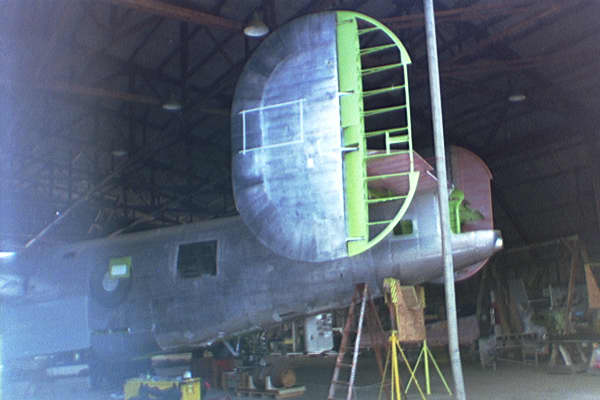 ---

The engines are mounted but all accessories and controls must be added. Two engines must still be overhauled. One of these is seized. Cowlings need to be fabricated.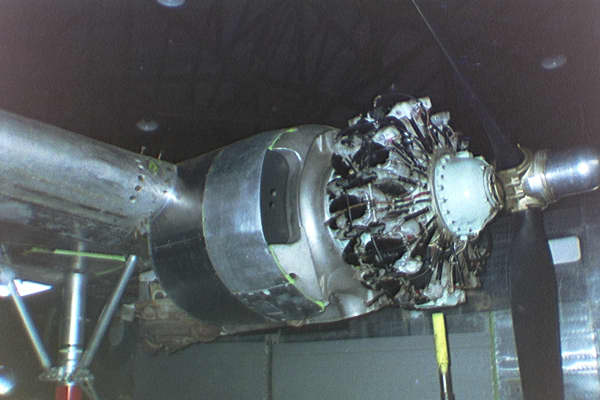 ---

Note installation of oil tank. As shown here, nacelles and cowling need to be added as well as all internal accessories and controls.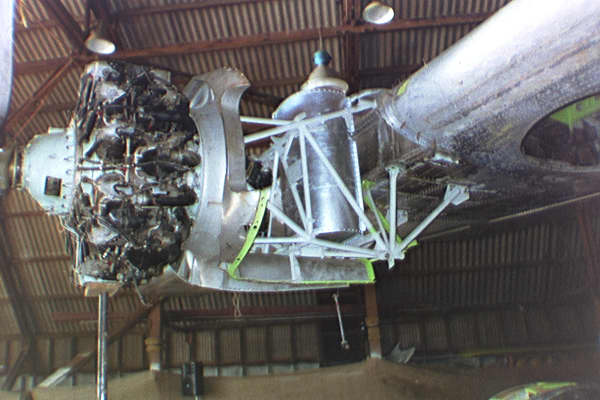 ---
Return to Newsletter #4 Topics page
---
---