On April 12, 2013, the Golden Eagle Award was presented to Captain (Dr.) Theodore J. Williams by his friend and crewmate, Mr. Joseph H. Wells, Armed Forces Community Relations Council (Ohio). This Award was originally planned to be given to Ted at the Banquet during the 2012 New Orleans 380th Reunion, but was postponed due to an unfortunate mishap with the Golden Eagle trophy just prior to that event.

The Golden Eagle Award is given annually by the Armed Forces Community Relations Council (Columbus, Ohio) to an individual who has substantially contributed to the cause of freedom.

The inscription on the Award reads:

Armed Forces Community Relations Council
MAN OF THE YEAR
2012
Theodore J. (Ted) Williams
Patriot - Professor - President
WWII Navigator B24 Liberator Bomber
Professor Purdue University
President, 380th Bomb Group 1999-2006
Many Military and Professional Awards
Joseph H. Wells, AFCRC President<

The ceremony took place at University Place, West Lafayette, Indiana. Family, friends, and former Purdue University associates were present. The Air Force was represented by Col Seth Bretscher, Commander, AFROTC Detachment 220, and Professor of Aerospace Studies, Purdue University. Other members of the Air Force ROTC Detachment present were SSgt Robert Sawtell, and Cadet Jeff Kendzior, Cadet Anthony Lopez, Cadet Mitch Redmond, and Cadet Matthew Stopka (Members of the Honor Guard).

Opening remarks and introductions were made by Theodore J. Williams, Jr.

Remarks and presentation of the Golden Eagle Award were made by Joe Wells, who, along with Ted, were the last surviving members of Crew 91 of the 531st Bomb Squadron, 380th Bombardment Group (H). Joe, a Staff Sergeant at the time, was waist gunner and assistant flight engineer on the Magee Crew and was with Ted (who was the navigator) for all of his combat missions.

Col Bretscher and his staff were instrumental in the arrangements for this ceremony and making it a very special occasion with a close connection to the United States Air Force. Col Bretscher spoke about Air Force Heritage, and how today's AF wouldn't be what it is without the dedication and sacrifices made by the WWII generation.

He said that he and Dr. Williams share AF Heritage because they were both "navigators." In his B-24, Captain Williams flew a 17-hour mission, mostly over water, to attack Japanese oil facilities in Borneo. To get there, and back to Australia, he relied on celestial navigation to guide his B-24. Col Bretscher related his own experiences in basic navigator training and how incredibly difficult it is to have to "dead reckon" (i.e., predict or "guess") where the aircraft will be based upon time, speed, heading and winds. One simple plotting, reading, or math error throws the whole thing off and you're lost. In a B-24, on a 17-hour mission over water, the survival of the entire crew rests with the navigator.

Col Bretscher said that today's AF "stands on the shoulders" of men like Ted Williams, SSgt Joe Wells and the rest of the "Sad Sack" B-24 crew. He is a proud AF navigator today because of the direct influence of men like Capt Williams.

Dr. Williams was unable to make remarks to express his appreciation for this award himself, so his son, Ted, delivered them for him. He first thanked his dear friend and fellow airman, Joe Wells, with whom he has been friends since the early 1940s, a friendship forged in the skies over the Pacific.

Thanks were given to Col Seth Bretscher, the Purdue Air Force ROTC Honor Guard, and Detachment 220, the Purdue ROTC unit, for their participation in the event; to the Armed Forces Community Relations Council for this recognition; and to all who were able to attend.
Photos from Michael Lenehan and Barbara Gotham
---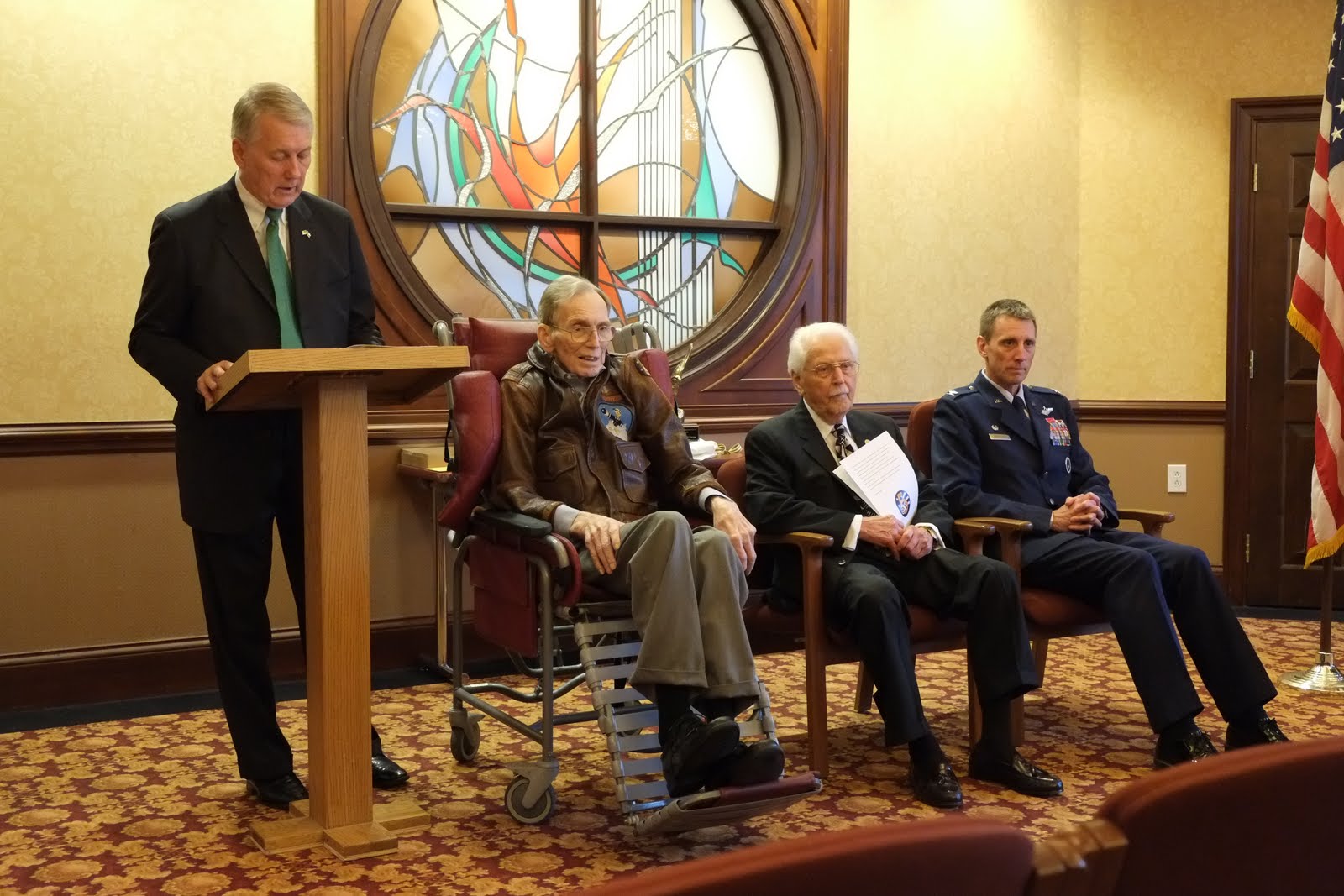 Opening remarks and introductions were made by Theodore J. Williams, Jr.; Ted Williams, Joe Wells, and Col Seth Bretscher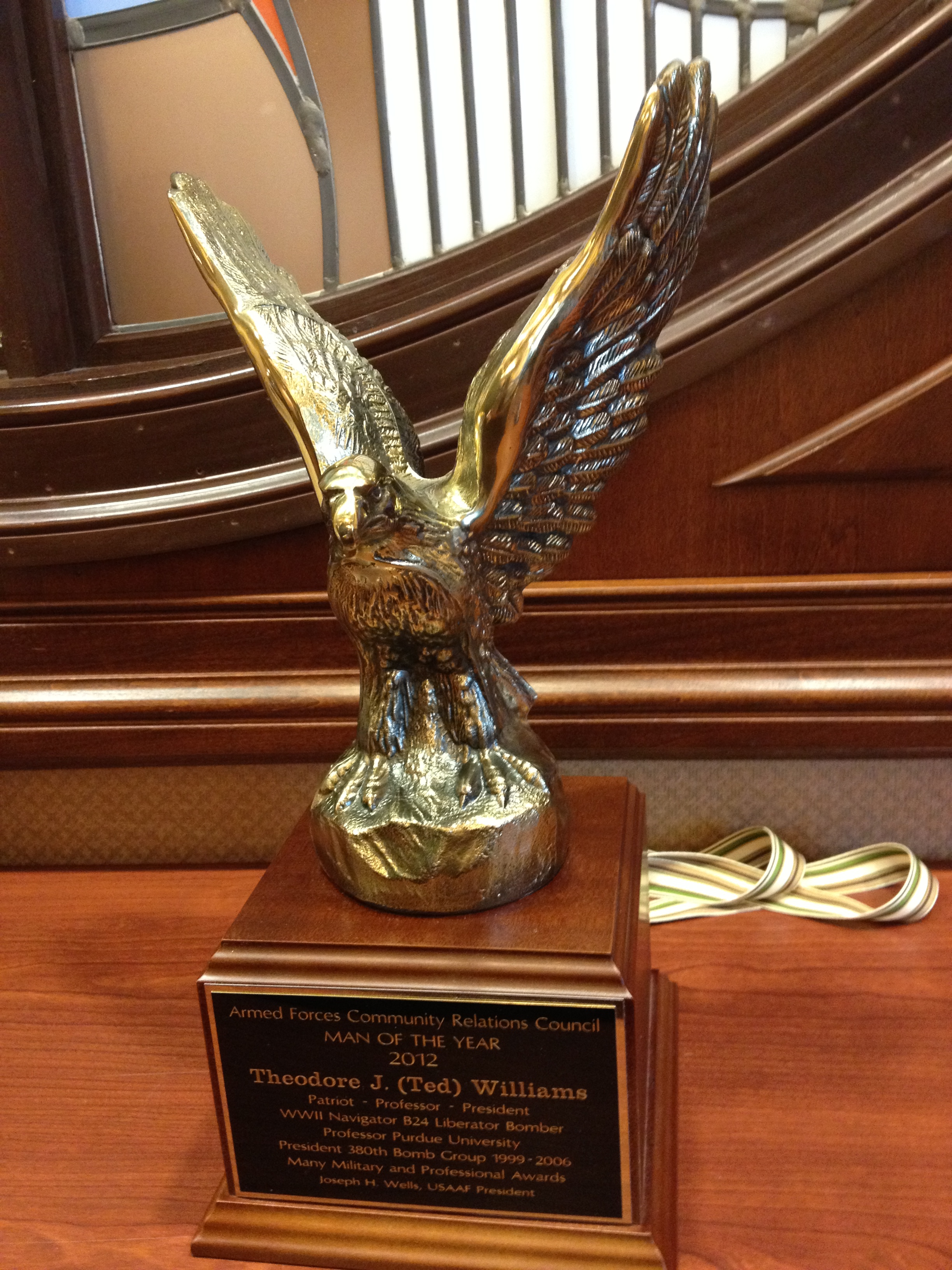 Golden Eagle Award
Ted Williams and Joe Wells with Col Seth Bretscher, the Purdue Air Force ROTC Honor Guard,
Detachment 220 of the Purdue ROTC unit