THE FIRST OF THE LAST HURRAHS!
Discussions at the August 6 Members' Meeting (during the 2011 Reunion in Colorado Springs) of the 2012 Reunion were divided as to whether it would be the final regular reunion for the group. One side would like to see 2012 be the last reunion (the final hurrah) and the other side is not ready to give them up. Paraphrasing Russ O'Day's statement: "I just learned about these reunions over the past few years, and I'm not ready to give them up - I don't think I'm too old to keep attending!"
So it was decided to call the 2012 Reunion "The First of the Last Hurrahs!"

LOCATION:
Our reunion will be at the Holiday Inn Downtown Superdome, 330 Loyola St, New Orleans.

DATES:
October 31-November 4, 2012
---
REUNION SCHEDULE:
Breakfast: Thursday-Saturday (November 1-3)
Hospitality Room (coffee/tea/juices, cereal/oatmeal, pastries, etc.)
Thursday: 7:00-10:00am; Friday: 7:00-9:00am; Saturday: 7:00-8:30am

Wednesday, October 31
1:00 - 10:00pm - Registration in Hospitality Room
1:00 - 5:00pm - Optional Swamp Tour (pre-registration required) (meet in hotel lobby by 12:45pm)
Dinner on own
Thursday, November 1
10:00am - 1:00pm - Optional City/Katrina Tour (pre-registration required) (meet in hotel lobby by 9:45am)
1:00 - 5:00pm - Registration/Hospitality room open
Afternoon - sightseeing on own
5:30pm - Cash bar (Holiday Inn)
6:00 - 8:00pm - Welcome banquet (Holiday Inn) (Mardi Gras theme - casual attire) (pre-registration required)
Hospitality room open after dinner until 10:00pm
Friday, November 2
9:15am - Buses depart for National World War II Museum (pre-registration required) (meet in hotel lobby by 9:00am)
10:00am - "Beyond All Boundaries" film in Solomon Victory Theater (museum)
11:00 - 11:20am - Memorial Service (museum function room)
11:30am - Lunch group #1 (museum function room)
12:15pm - Lunch group #2 (museum function room)
Before/After lunch - Museum self-guided tours
For those not wishing to go on the museum tours, there will be a bus leaving for the hotel at 1:30pm
4:30pm - Final bus leaves to return to hotel
5:00 - 10:00pm - Hospitality room open
Dinner on own
Saturday, November 3
9:00am - Buses depart for Prytania Theatre (meet in hotel lobby by 8:45am)
10:00 - 11:30am - SHADY LADY film viewing
11:45am - Buses return to hotel
Noon - 4:00pm - Hospitality room open
Lunch/afternoon - on own
5:00 - 5:30pm - Group photos (Holiday Inn) (meet outside banquet room)
5:30pm - Cash bar
6:00pm - Dinner served
7:30 - 9:30pm - Program/Meeting
7:30 - 9:30pm - Music/dancing
Sunday, November 4 - Departures
---
REUNION REGISTRATION AND PAYMENT INFO:
Please use the EVENT FORM to sign up for the Reunion, Reunion Events, and Optional Tours. Note that pre-registration is required for the reunion and all tours (Swamp and City/Katrina) and scheduled group events (Museum and Dinners).
Unless prior arrangements are made with Barb Gotham, all reunion event payments must be received by October 26, 2012. Checks, money orders, or cash only - no credit cards accepted for reunion fees, events, etc.
Questions? Contact Barb Gotham at 380th.ww2@gmail.com
---
---
PLEASE CONTACT THE HOTEL YOURSELF TO MAKE YOUR LODGING RESERVATIONS -
Holiday Inn Downtown Superdome
330 Loyola St
New Orleans, Louisiana USA
http://www.hi-neworleans.com/
Telephone: 504-581-1600 or 800-535-7830
Fax: 504-522-0073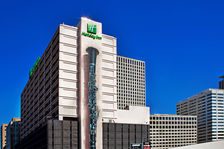 Room Rates: $129.00 plus taxes/fees per night (currently 13% tax plus $1/room occupancy fee); these rates are available 2 days before and 2 days after the reunion dates - if you are going to take advantage of these additional dates, please telephone the reservation desk to schedule the additional days (504-581-1600 Ext: 4212 and refer to the "380th Bomb Group Association")
Room Types: Doubles and Kings- ALL ROOMS ARE NON-SMOKING
Parking: Parking garage in same building as hotel - we will have a discounted parking rate of $10 plus tax/night
Cutoff Dates: September 30, 2012 (1 month prior to arrival); reservations made after this date will be accepted at the group rate based on availability
Reservations: Call 1-800-535-7830 and refer to the "380th Bomb Group Association" - the direct number is 504-581-1600 Ext: 4212
Electronic Booking: http://www.holidayinn.com/hotels/us/en/new-orleans/msydt/hoteldetail/hotel-room-rates - Group Code is BGA
If you wish to extend your stay outside of these dates (for arrivals before 31-Oct-2012 or after 4-Nov-2012), you will need to book a separate reservation on the website or contact the hotel directly at (504) 581-1600 Ext: 4212. Our rate will also be available 2 days before and 2 days after reunion dates.
Be sure to tell the reservation agent if you have any special needs (for example, need handicap accessible room, crib/rollway bed, etc.)
Reservations Contact: Jessica Van Deventer (Group Sales), 504-581-1600 Ext 4212, jvande@hi-neworleans.com - Problems? Contact Barbara Gotham
Individual Room Cancellations: Cancellations may be made up to 72 hours prior to arrival without penalty; any cancellations after this time will be subject to a penalty of one night's room and tax charges
Airport Shuttle: There is no airport shuttle to this hotel - please see the GROUND TRANSPORTATION options below.
• ALL ROOMS ARE NON-SMOKING AT THIS HOTEL
• Hotel cancel policy for this event: 72 hours prior to arrival to avoid penalty
• Check-in: 4:00 pm
• Check-out: Noon
• Pets not allowed (although service animals are allowed for persons with disabilities)
• Wi-Fi is complimentary throughout the entire hotel!
Reservations due before September 30, 2012. Reservations after this date will be provided on a space available basis.
---
LOUIS ARMSTRONG NEW ORLEANS INTERNATIONAL AIRPORT:
Airlines:
AirCanada: 1-888-247-2262
AirTran: 1-800-247-8726
American Airlines: 1-800-433-7300
Continental Airlines: 1-800-525-0280
Delta: 1-800-221-1212
Frontier: 1-800-432-1359
JetBlue: 1-800-538-2583
Southwest: 1-800-435-9792
United: 1-800-241-6522
US Airways: 1-800-428-4322
---
GROUND TRANSPORTATION OPTIONS:
Taxicabs:
A cab ride costs $33.00 from the airport to the Central Business District (CBD) for one or two persons and $14.00 (per passenger) for three or more passengers. Pick-up is on the lower level, outside the baggage claim area. There may be an additional charge for extra baggage. Taxis are required to offer a credit card payment option.
Airport Limousines:
Airport Limousine is the official limousine service for Louis Armstrong New Orleans International Airport. Convenient kiosks are located in the baggage claim area and no hassle curb side pickups are available. Rates begin at $58 for 1 or 2 passengers. Visit their web site for more information/reservations: http://www.airportlimousineneworleans.com/
Airport Shuttle, Inc. New Orleans:
Airport Shuttle is providing discounted roundtrip shuttle fare for our group for $35.00/per person (regular rate is $38.00/per person/roundtrip). You may book online by visiting
http://airportshuttleneworleans.hudsonltd.net/res?USERIDENTRY=380BOMB1012&LOGON=GO
or you may call toll free 866-596-2699. When calling, you must mention that you are booking discounted roundtrip shuttle service for the "380th Bomb Group Association." If you are scheduling this service over the phone, you should write down your confirmation number and proceed to any Airport Shuttle desk to get your receipt upon arrival at the airport.
· In order to be able to book travel online, you must book at least 24 hours prior to your flight arrival time.
· The group has been set up to book online so we can change an existing online reservation via phone (866-596-2699) but they will need to make the original reservation online; if not the discount doesn't apply.
Their regular rate is $20.00 (per person, one-way) or $38.00 (per person, round-trip). Three bags per person. Call 1-866-596-2699 or 504-522-3500 for more details or to make a reservation. Advance reservations are required 48 hours prior to travel for all ADA accessible transfers. Please call in advance of your travel date for the specially-equipped shuttle to be reserved. Ticket booths are located on the lower level in the baggage claim area. www.airportshuttleneworleans.com.
---
NATIONAL WORLD WAR II MUSEUM
From the beaches of Normandy to the sands of Iwo Jima, The National World War II Museum's exhibits are a blend of personal accounts, artifacts, documents, photographs and original film footage. The stories of the dozens of amphibious landings and the thousands of men and women who made Allied victory in World War II possible are told through three floors of exhibit space. In addition, special exhibits draw on the Museum's own collections, as well as relevant traveling exhibits to further illustrate and explore the war that changed the world. We recommend allowing at least two to three hours to visit the Museum.
Film: Beyond All Boundaries The Museum offers Beyond All Boundaries exclusively in its Solomon Victory Theater. Created and crafted with 21st-century technology and utilizing a 120-feet wide immersive screen, the 4-D production plunges viewers into the 20th-century's most titanic struggle. It tells the tale of the Greatest Generation's journey from Pearl Harbor into the fire of epic battles to America's final victory in the War That Changed the World in the words of the veterans themselves. Narrated by Tom Hanks and including the voices of some of Hollywood's top stars brings to life the words of actual World War II participants and war correspondents.


NOTE: Elements of Beyond All Boundaries may aggravate certain medical conditions. These elements include loud noises, flashing lights, fog effects, and sudden chair movements. Stationary seating is available. The film also contains images of a very graphic nature, including archival footage from the battlefields of WWII that may be too intense for younger viewers (pre-school age in particular). Parental guidance is suggested..
---
THINGS TO DO IN NEW ORLEANS: http://www.neworleanscvb.com/things-to-do/
---
Reunion Coordinator:
Barbara Gotham
Email: 380th.ww2@gmail.com
130 Colony Road
West Lafayette IN 47906-1209 USA
Phone: 765-463-5390 (home) or 765-412-5370 (cell)
---
Return to the main Reunion page
Return to the 380th home page
---
Last updated: 09-Oct-2012