HOTEL INFORMATION:
Hotel Name:
Holiday Inn Norfolk Airport
Hotel Address:
1570 N Military Highway
Norfolk VA 23502
Group Name:
380th Bomb Group Association
Group Code:
BGA
Check-in:
05-Nov-2014
Check-out:
09-Nov-2014
Phone Number:
757-213-2231
Fax Number:
757-213-2232
Toll Free:
1-800-HOLIDAY (1-800-465-4329)
Online Reservations:
380th BOMB GROUP ASSOCIATION

RESERVATION DEADLINE: Sunday, 5 October 2014
Reservations made after this date will be honored at the group rate, based on availability

YOU ARE RESPONSIBLE FOR MAKING YOUR OWN HOTEL RESERVATIONS

RATES:
Kings / 2 Queens: $89 plus taxes (14% occupancy tax plus $2.00 flat city; taxes subject to change)

The above rates apply to 3 days before and 3 days after the group blocked dates (11/5-11/9), based on availability. If you are taking advantage of the 3 days before and/or 3 days after rate – you must contact the hotel directly to make those reservations (the online system is only set up to take reservations from 11/5-11/9).

All reservations must be guaranteed to a credit card to book the room at the time of making the reservation.
See the section below about cancellations.

The Holiday Inn has a limited number of accessible rooms. If you need one, please make sure you request one when you are making your reservation.

TO MAKE RESERVATIONS BY PHONE:
Direct line to hotel: 757-213-2231 - Please provide the Group Code as indicated above (380th Bomb Group Association - BGA).

TO MAKE RESERVATIONS ONLINE:
Please click here to go to the online reservation page for our group:
Please provide the Group Code as indicated above (BGA). If you have any trouble with making an online reservation, please call the direct line number (or contact Barbara Gotham).

CANCELLING GUESTROOM RESERVATIONS:
Cancelling your reservation before 6:00 PM (local hotel time) on the first day of arrival to the hotel will result in no charge. Cancelling your reservation after 6:00 PM (local hotel time) on date of arrival, or failing to show, will result in a charge of 1 (one) night per room to your credit card. Taxes may apply. Failing to call or show before check-out time after the first night of a reservation will result in cancellation of the remainder of your reservation. Please have your confirmation number available when you call, 757-213-2231.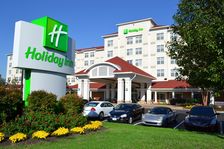 HOLIDAY INN NORFOLK AIRPORT OVERVIEW:
Each guest room has either one king bed or two queen beds with refrigerator/freezer, microwave, coffee maker, and cable with on demand movies.

High-speed internet access in all guest rooms, in business center, and throughout the hotel.

Check-in is 4:00 PM; Check-out is Noon--early check-in is based on a "space available" basis and will not be guaranteed. Individuals staying in their rooms beyond check-out time will be billed one additional night's stay. Late check-out is provided based on availability, although some charges may apply. Arrangements can be made by contacting the front desk. Luggage storage is available for early arrival/late departure.

100% non-smoking.

Service animals only (no pets).

Indoor pool, whirlpool, business center, and fitness center.
On-site guest self-laundry facilities (washer/dryer).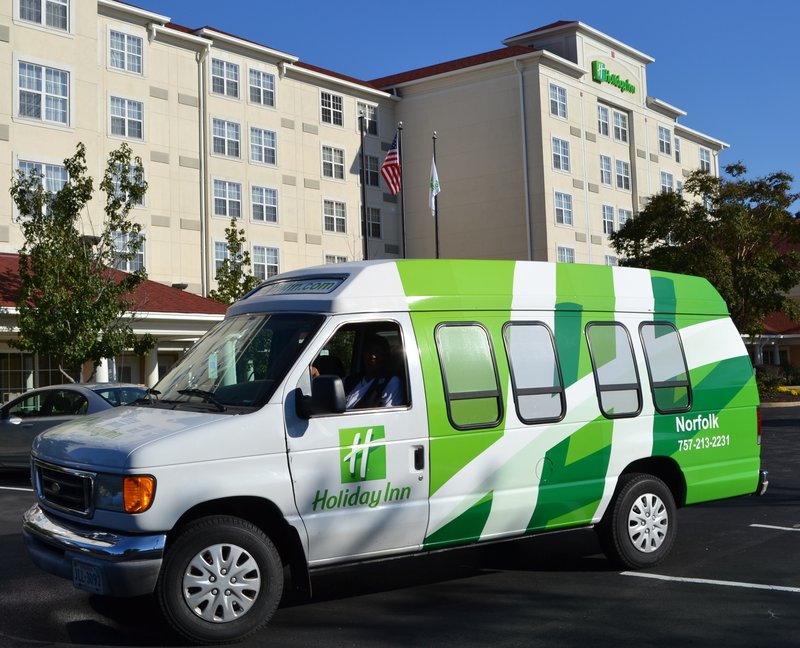 LOCATION - FREE AIRPORT SHUTTLE - FREE PARKING:
Located 1.4 miles from the Norfolk International Airport and offering 24-hour complimentary shuttle service to the airport. Guests need to call the front desk at 757-213-2231 and advise that they have arrived. The driver will pick you up from baggage claim.

Centrally located to I-64, I-264 which connects to every city in Hampton Roads to include Virginia Beach, Chesapeake, Suffolk, Portsmouth, Hampton and the Eastern Shore.

FREE self-parking.

FREE shuttle to the Light Rail Station (local train system) & FREE shuttle services within a 5-mile radius.

INDIVIDUAL FOOD AND DINING:

Our group rate includes a complimentary extensive breakfast buffet for up to two guests per guest room and a 10% discount in the restaurant for all reunion attendees. Kids eat free.

The hotel restaurant also serves dinner and room service. (No lunch service available, although there is a sundries shop in the hotel with snack items available for purchase.)

Need to unwind after a long day? Check out the lounge for a refreshing beverage and catch up on the latest news or sports on the large screen TV.

The complimentary hotel shuttle can take you within a 5-mile radius of the hotel to restaurants, shopping, and more. Please check with the front desk for availability.

---
REUNION SCHEDULE (subject to change):
WEDNESDAY, November 5
Early arrivals -- Hospitality room open from 1:00-11:00pm -- No scheduled group activities this day

THURSDAY, November 6

OPTIONAL TOUR
9:00-9:30 am -- Bus departs hotel for NAUTICUS/BATTLESHIP WISCONSIN
10:00 AM - 2:00 pm --"Big Ticket" package includes self-guided tour of Nauticus (museum) and Battleship Wisconsin (battleship), box lunches and coupon for gift shop
2:00-4:00 pm -- Naval base cruise onboard the Victory Rover (included in our package) (30 seats available)
4:30-5:00 pm -- bus returns to hotel
WELCOME BANQUET -- HOTEL
6:00 pm -- cash bar
6:30 pm -- dinner
7:30-8:30 pm -- entertainment
FRIDAY, November 7
MEMORIAL SERVICE & NAVAL EXHIBIT at Little Creek Naval Base, Norfolk
9:00 am -- Bus departs hotel
9:30 am -- Memorial Service
10:15 am -- Navy Expeditionary Commands demonstration (nearby the chapel)
11:15-11:30 am -- Bus returns to hotel
Noon -- Box lunches at hotel
1:15 -- Buses depart for Virginia Air & Space Center (in Hampton)
2:00 pm -- Tours of VASC
4:30 pm -- Bus returns to hotel
5:00 pm -- "Welcome Home" Reception sponsored by the Holiday Inn
Dinner on own
SATURDAY, November 8
10:00 am -- Member meeting (hotel)
(Showing of the SHADY LADY documentary if requested)
Lunch/afternoon on own
5:00 pm -- Group photos (hotel)
5:30 pm -- Cash bar (hotel)
6:00 pm -- Banquet/Program/Dancing (hotel)
SUNDAY, November 9
Departures
---
REUNION REGISTRATION AND PAYMENT INFO:
Please use the EVENT FORM to sign up for the Reunion, Reunion Events, and Optional Tours. Note that pre-registration is required for the reunion and all tours (Nauticus/Battleship Wisconsin, Memorial Service/Naval demonstration, Virginia Air & Space Center) and scheduled group meals (Thursday welcome dinner, Friday luncheon, Saturday banquet).
Please note the following about the Memorial Service and Naval demonstrations on Friday, November 7th, at the Little Creek Naval Base in Norfolk:
Because we are making special arrangements to go through security and onto the naval base, we strongly encourage everyone to ride on the buses provided plus everyone needs to bring their IDs with them -- and we will need to provide a list of everyone attending at least one week prior to the event. This means we cannot have any late sign-ups for this event and do not encourage you to drive on your own to the base, unless you have the appropriate/required military ID to get on base.
Unless prior arrangements are made with Barb Gotham, all reunion event payments must be received by Friday, October 24, 2014 (before 5:00pm EDT). Checks, money orders, or cash only - no credit cards accepted.
Questions? Contact Barb Gotham at 380th.ww2@gmail.com
---
---
Menus
Breakfast:
Our group rate includes a complimentary extensive breakfast buffet for up to two guests per guest room and a 10% discount in the restaurant for all reunion attendees.

Thursday Welcome Dinner:
Military Reunion Buffet - pineapple glazed ham, shrimp stir fry, garden salad, dinner rolls, chef's dessert display, wild rice or red roasted potatoes, vegetable medley, coffee/tea

Friday Boxed Lunches:
Choice of ham, turkey or roast beef sandwiches served on a Kaiser roll with tomato and onion, served with potato chips, seasonal fruit, and cookie bar

Friday "Welcome Home" Reception: provided by the Holiday Inn

Saturday Banquet:
Baked tilapia or roasted beef sirloin, accompanied by garden salad, vegetable and starch, rolls, dessert, coffee/tea
---
NORFOLK INTERNATIONAL AIRPORT:
Norfolk International Airport (ORF) is located one mile east of I-64 (exit 279), just minutes from downtown Norfolk.

Flights to hundreds of cities daily via AirTran, American, Delta, Southwest, United and US Airways.

The international flights facility in the main passenger terminal houses U.S. Customs & Border Protection Services. Aircraft fueling and provisioning services provided by fixed base operator, Landmark Aviation.

Norfolk International Airport is a smoke-free facility.
---
GROUND TRANSPORTATION:
The Holiday Inn Norfolk Airport (our reunion hotel) provides 24-hour complimentary shuttle service to the airport. Guests need to call the front desk at 757-213-2231 and advise that they have arrived. The driver will pick you up from baggage claim.

Over 7,000 rental cars are available through Advantage, Alamo, Avis, Budget, Dollar, Enterprise, Hertz, and National.

Taxi service is also available.

Continuous shuttle service (for a fee) to Norfolk hotels is also provided by James River Transportation, 866-823-4626 (toll-free) or 757-963-0433.

HAMPTON ROADS TRANSIT:
Hampton Roads Light Rail: The Tide

The Tide extends 7.4 miles from the Eastern Virginia Medical Center complex east through downtown Norfolk to Newtown Road at the border of Virginia Beach. It is served by 11 stations and four park-and-ride lots. Parking is free. Tickets can be purchased at all ticket vending machines, at select retail outlets, and online.

http://www.gohrt.com/services/the-tide/

Fares: http://www.gohrt.com/fares/bus-fares/
$1.50/one way – seniors 60+ ride for $0.75/one way

Elizabeth River Ferry

Hampton Roads Transit (HRT) operates three 150-passenger ferries on the Elizabeth River between Norfolk and Portsmouth. They travel between North Landing and High Street in Portsmouth and the Waterside festival marketplace in downtown Norfolk. They're fast, economical and offer a unique view of the river and the waterfront.

Ferries operate every 30 minutes with 15-minute service during the summer at peak times on weekends. Schedules are subject to change based on operating situations (weather, mechanical problems, etc.).

Fares: http://www.gohrt.com/fares/ferry-fares/
$1.50/one way – seniors 60+ ride for $0.75/one way

A One Day GoPass allows unlimited access to all HRT services (except MAX which requires an upgrade fee). The One Day GoPass is good for bus, light rail and ferry services.
$3.50/adults; seniors $1.75

The ferry is wheelchair accessible and allows boarding passengers to walk on with their bicycles.

---
AMTRAK:
Please consider taking the Amtrak to Norfolk: http://www.amtrak.com/home
Station in Norfolk - daily trains to Petersburg, Richmond, Washington DC, Philadelphia, New York, Boston, and local bus service between Virginia Beach, Norfolk, and Newport News.
---
REUNION GROUP TOURS:
THURSDAY - NOVEMBER 6 (DAY TRIP)
NAUTICUS / BATTLESHIP WISCONSIN TOUR / BOXED LUNCH / VICTORY ROVER CRUISE
Arrangements for our group tour are for the "BIG TICKET" package which includes admission to Nauticus & the Battleship Wisconsin; a 2-hour Naval Base cruise aboard the Victory Rover; a 20% discount off one item in the Banana Pier Gift Shop; and a boxed lunch. Minimum of 15 people/maximum of 30.
Nauticus is an exciting interactive science and technology center that explores the naval, economic, and nautical power of the sea. Home of the Battleship Wisconsin, Nauticus features Battleship Wisconsin-related exhibits, hands-on exhibits, national-caliber traveling exhibits, HD films on a giant screen, sharks, the Hampton Roads Naval Museum, and more! In addition, you can access limited areas of the interior of the Wisconsin.
The Victory Rover offers 2-hour narrated naval base cruises daily from Nauticus, home of the Battleship Wisconsin. Professional captains provide a fascinating and entertaining commentary as the ship cruises the smooth waters of the Elizabeth River and Hampton Roads Harbor. You will see aircraft carriers, nuclear submarines, guided missile cruisers, and all of the other ships that form the world's most powerful armada.
On board, guests will enjoy plenty of comfortable seating, clean restrooms, air-conditioned enclosed deck, open air upper deck, snack bar and souvenir shop.
http://www.navalbasecruises.com/
- - - - - - - - - - - - - - - - - - - - - - - - - - - - - - - - - - - - - - - - - - - - - - - - - - - - - - - - - - - -
FRIDAY AFTERNOON - NOVEMBER 7
VIRGINIA AIR & SPACE CENTER
Located in Hampton, Virginia, the birthplace of America's space program, the Virginia Air & Space Center features interactive aviation exhibits spanning100 years of flight, more than 30 historic aircraft, a hands-on space gallery, unique space flight artifacts, and more! Your imagination will soar as you launch a rocket, pilot a space shuttle, program Mars rovers for a mission, become an air traffic controller, fly an airplane, and climb aboard a WWII B-24 bomber! Come face to face with the Apollo 12 Command Module that went to the moon, a Mars meteorite, a three-billion-year-old moon rock, a DC-9 passenger jet, a replica 1903 Wright Flyer, and more!
Over 100 interactive exhibits detail NASA's historic achievements, many of which occurred in Hampton's own backyard. The following is a preview of exhibits:
The Adventures in Flight gallery takes visitors on an aviation adventure when they "wing walk" on a Jenny bi-plane, see a replica 1903 Wright Flyer, explore a DC-9 passenger jet, ride in a WWII B-24 bomber, become an air traffic controller, sit in the cockpit of an F/A-22 fighter jet, pilot an airplane, and more!
Ham Radio Exhibit: view history and cutting edge technology at our world-class, fully-automatic, digital Amateur Radio satelllite station. Discover how Ham Radio is exploring the next big steps in digital technology and its impact on personal communications in the next few years.
- - - - - - - - - - - - - - - - - - - - - - - - - - - - - - - - - - - - - - - - - - - - - - - - - - - - - - - - - - - -
JOINT EXPEDITIONARY BASE: LITTLE CREEK-FORT STORY
While we are at Little Creek (after our Memorial Service at the base chapel), we will be treated to a Navy expeditionary commands demonstration: Each of the Navy expeditionary commands (they wear green fatigues and boots--also known as brown water Navy) will set up a show-and-tell of their trucks/boats/communications gear, etc., and provide a short speech regarding what they do.
Our group will be broken up into smaller groups to see different displays simultaneously. The average time for a group to see a display is about 10 minutes and there will be 5 displays:
(1) Navy Expeditionary Intelligence Command (NEIC)
(2) Maritime Civil Affairs & Security Training Command (MCASTC)
(3) Navy Expeditionary Logistics Support Group (NAVELSG)
(4) Coastal Riverine Craft and Security Force (CRF)
(5) Naval Construction Force (NCF)

"The Pearl by the Bay and The Emerald on The Ocean"
Installation Information
On October 1, 2009, the Joint Expeditionary Base Little Creek-Fort Story was established, the first Joint Base in Hampton Roads. Joint Expeditionary Base Little Creek – Fort Story is the country's premier installation for housing and training the nation's Expeditionary Forces. It is one command with two properties: Joint Expeditionary Base Fort Story and JEB Little Creek. The Joint Expeditionary Base is comprised of the former Naval Amphibious Base Little Creek and the Army Post of Fort Story. Fort Story witnessed the humble beginnings of our country at the 1607 first landing site. Little Creek began as a dynamic training ground for World War II amphibious forces. Together they comprise the crown jewel of America's military bases.
The Naval Amphibious Base, Little Creek is the major operating base for the Amphibious Forces in the United States Navy's Atlantic Fleet.
The mission of the Naval Amphibious Base is to provide required support services to over 15,000 personnel of the 27 homeported ships and 78 resident and/or supported activities. The base's combination of operational, support, and training facilities are geared predominantly to amphibious operations, making the base unique among bases of the United States and Allied Navies.
http://www.cnic.navy.mil/regions/cnrma/installations/jeb_little_creek_fort_story.html
---
OTHER LOCAL ATTRACTIONS
Mileage shown is from Holiday Inn Norfolk Airport:
Norfolk Naval Shipyard (9.0MI)
Busch Gardens (40.0MI)
Ntelos Pavillion (8.0MI)
Virginia Beach Amphitheater (12.0MI)
The Norva (7.0MI)
Harrison Opera House (7.0MI)
Waterside Festival Marketplace (6.0MI)
Chrysler Hall/Norfolk Scope (7.0MI)
Virginia Zoological Park (12.0MI)
Norfolk Cruise Port (6.0MI)
---
Reunion Coordinator:
Barbara Gotham
Email: 380th.ww2@gmail.com
130 Colony Road
West Lafayette IN 47906-1209 USA
Phone: 765-463-5390 (home) or 765-412-5370 (cell)
---
Return to the main Reunion page
Return to the 380th home page
---
Last updated: 25 March 2015