LIQUIDATOR
| | |
| --- | --- |
| Serial No.: 44-42323 | Model: B-24M-25-CO |
The 380th records show an aircraft with this serial number, and folklore named it as "LIQUIDATOR" - it is possible that this name is wrong and therefore the nose art shown here may be incorrect.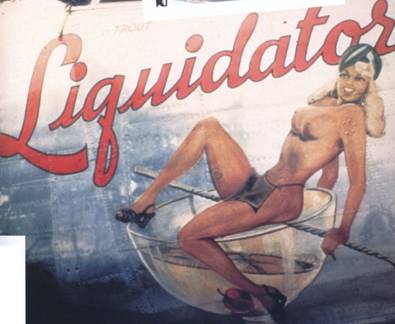 Source: Glenn R. Horton, Jr.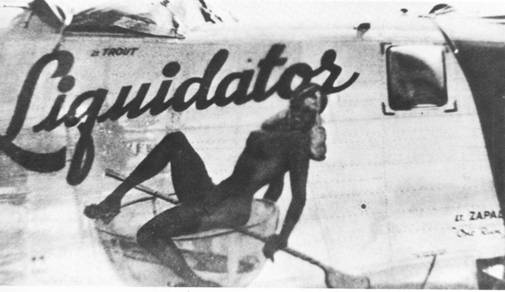 Source: Horton/Horton, King of the Heavies, p. 151.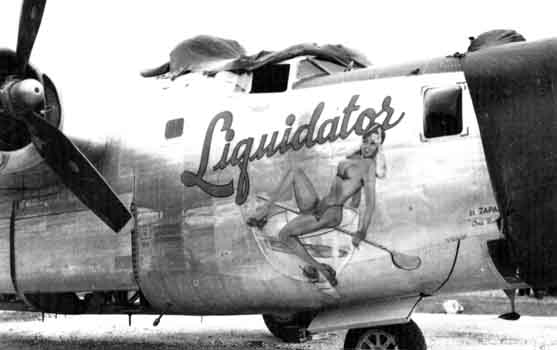 Source: http://www.b24bestweb.com/liquidator.htm
This nose art also claimed by 494th Bomb Group, 7th Air Force, for their 44-42052. This picture and the previous ones (from Glenn Horton) are of that aircraft since 380th had no bombardier named Lt. ZAPA … (other name(s) covered by tarp in above photo). We do not know how our aircraft looked compared to this one.


Aircraft 44-42323 was definitely a 380th aircraft per this picture shown below (its tail markings identify it as a 380th ship).
<![if !vml]><![endif]>

Source: Horton, Best in the Southwest, center color insert page #31.
---
---
Last updated: 02/19/2007 04:56 PM