---
MAIL CALL
---
from: Bill Shek
July 2010
subject: Dick Ebbeson art?
I have several b/w photos in my father's collection from Fenton of the 528th BS bar "Herky's Hangout." In the background, pinned up behind the bar, are several pieces of artwork that were done by, I think, Dick Ebbeson. They are of various noseart pinups he did for the squadron. Dad saved the "Dauntless Dottie" painting shown in one photo and I have it. It's an original painting on either board or paper. I'd like to put a photo or two of the bar in the newsletter and ask if anyone has any of those originals. If so, I'd dearly love to get a photo or scan of the piece(s) if any still exist. Thanks.
Here are 2 photos of the 528th BS bar,"Herky's Hangout" at Fenton. #1 is a photo from my father's collection; #2 is a scan from a 380th book I have ("The Flying Circus, 380th Bomb Group," by Fain, Bergman, Cannon, Kiser, Howard, and Gruendyke, copyright date not listed, but sometime after VJ Day).
I am very interested in the artwork pinned up behind the bar. I'm pretty sure most of it was done by Dick Ebbeson of the 528th BS -- especially the nose-art pinups (the diamond-shaped pieces). I have the original painting of "Dauntless Dottie" that is shown in #2 (on the right, at the top of the group of 4 above the aluminum pot) and have included a scan of that original (Dad saved it!!).
If anyone still has any of those original pieces, or any other artwork by Ebbeson, or any information about those artworks, please contact me directly or through the Association. If possible, I would like to get a photo or a scan of the work(s).
Thanks very much and cheers to all the vets and families!
Bill Shek (Jr)

---
---
from: Bruce Carlage <hoosiers@charter.net>
Aug 16, 2010
Hello Barbara:
My father, Fred Carlage, receives your newsletter as a member of the 380th Bomb Group. He is residing in a rest home and really enjoys the letter.
He was asking me if I could find out anything about two of his best friends while in the Air Force during WW11. If you have any information he and I would greatly appreciate it. Ed Silver was also in the 380th and went to Bombardier and Navigation training with my father who claims that Ed went on to receive a law degree from Georgetown University and was one of the prosecuting attorneys during the Watergate impeachment trials.
The second was Vincent Barger who I don't believe was a member of the 380th. He resided in Bartlesville, Oklahoma, and went thru training with my father.
Keep up the good work and thanks again,
Bruce Carlage
---
from: W Russell <wfr9493@embarqmail.com>
Jul 17, 2010
TAPS-Name=Major Charles H Russell
TAPS-Date=01/09/1963
TAPS-City_State=Maynard MA
TAPS-Duties=Pilot
I am trying to find out information about my Father. I have an 8 1/2" x 11" jacket patch that has a Lion on the globe with "Flying Circus King of the Heavies that belonged to my father.
My father died when I was 13 years old and I haven't had much luck finding any information about him. If anybody has any information I would appreciate hearing from them.
Bill Russell
---
from: Rick Gronkowski
TAPS-Name=LEONARD B. GRONKOWSKI
TAPS-Date=10 AUGUST 2010
TAPS-City_State=NANTICOKE, PA
TAPS-Duties=NOSE GUNNER-ROUGH NIGHT-KREUGERS CREW
MY DAD PASSED AWAY ON THE 10TH OF AUGUST 2010 AND HOPE THAT SOME OF YOU THAT I MET AT THE 2008 TUCSON REUNION WILL READ THIS. HE SPOKE OFTEN AND HIGHLY ABOUT ALL OF YOU. HE WAS VERY PROUD OF THE 380TH AND HIS SQUADRON, THE 530TH. I RETIRED FROM THE AIR FORCE IN 1986 AFTER SERVING FOR 22 YEARS AND TOURS IN VIETNAM. WE ARE A PROUD FAMILY AND IT WAS AN HONOR TO MEET AND BECOME FRIENDS WITH MANY OF YOU AND YOUR SPOUSES. I WAS NAMED AFTER RICHARD (DICK) MONTZ WHO WAS THE FLIGHT ENGINEER ON HIS CREW. I KNEW DICK AND HE WAS AT MY PARENTS 50TH ANNIVERSARY. WE LISTENED TO A LOT OF STORIES ABOUT FENTON AIRFIELD AND THE BOMB RUNS. I WOULD LIKE TO KNOW IF THE 380TH WILL EVER GET A SPOT AT THE PIMA MUSEUM AS WE WOULD LOAN MY DADS 530TH ITEMS FOR DISPLAY. THANK YOU ALL,
RICK
WATCH YOUR 6!
---
from: Matthew Ulrich
Wed, Aug 18, 2010 at 1:30 PM
subject: B24 Male Call
In photo malecall12.jpg it shows Blum's Crew. My grandfather Ray W. Colie Jr. served on Blum's crew and he is one of the 2 unknowns in the picture. Since I can't see the faces clearly I am not sure which one of the unknowns is him, but I believe it to be the 2nd person in the row of gentlemen that are kneeling. I'll include a picture of him from around that time.
This is a link to the page that I'm talking about, and I'll attach a picture of him to this email.
http://380th.org/HISTORY/PARTV/MaleCall.htm#Photos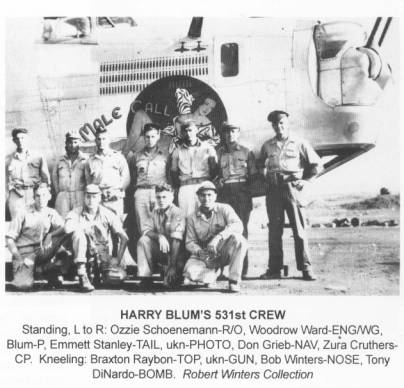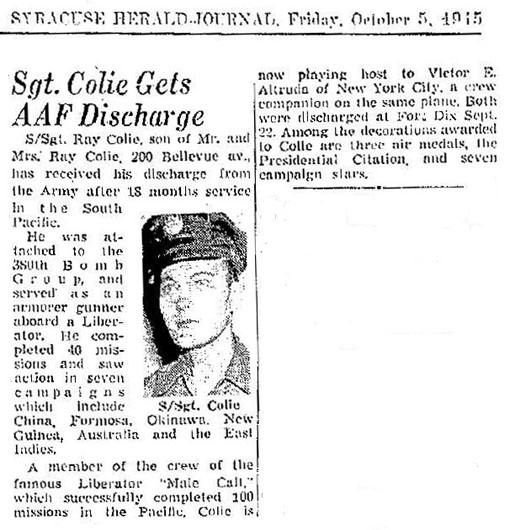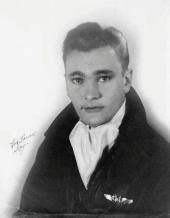 ---
Letter from Bill Casselberry, 528th, July 10, 2010
I am sending you some History on the Group that has been missed. I think it is very important. May 17 I turned 92 years.
Give my regards and love to all.
Bill
380th Bomb Group
Biggs Field, El Paso, Texas
August 1942
On this day in August 1942 a test flight was ordered because of a problem on flight reports for the B24. The problem was being able to change the prop pitch at 32,000 feet.
We were scheduled to go to England as all of the training missions were above 20,000 feet. The order was to check the prop trouble and then take the B24 as high as we could.
Crew
Pilot Capt. Geddes
Co-Pilot Lt. Sherman
Radio Operator Sgt Shine
Flight Engineer M/Sgt Casselberry
The test flight left Biggs about 9 a.m. As we headed over New Mexico and reached 18,000 feet, I started the engine check every 1,000 feet - rpm, temperature, oil pressure and manifold pressure. To have something to do, Sgt. Shine made the same records about 10 minutes after I made each of my checks. We had dual records which came in handy.
At 32,000 feet we had no problems. Capt. Geddes also ran all the checks with no problems. We feathered and unfeathered each engine and again had no problems. At this point we started out climb and as I wrote 37,500 on my record the cockpit filled with a white substance so heavy we could not see the dash or see each other. It lasted about 20 seconds, then cleared. Our right wing was dropping. Capt. Geddes and Lt. Sherman both had their hands on the controls to keep the wing up. A quick check out radio operator window #3 showed the engine was losing oil. I feathered the engine before it lost all oil. Another check and engine #2 was vibrating and it had to be feathered. Using a long oxygen hose, I went to waist window for a check and found that engine #4 super charger had run away. On my way back to my previous position, I noticed several holes in the bomb bay doors. A check of the batteries proved that they had been destroyed. I turned off all engine regulators. As I made a report to Capt. Geddes and Lt. Sherman, Sgt. Shine made a report (word for word) to the control tower. The #4 super charger had run away and a bucket had hit #3 engine oil tank. Also, a bucket went under our feet and cut the #2 engine prop. At 18,000 feet I cranked the landing gear down and checked to make sure it was locked. Then, I had to get the nose gear down. When I got in the crawlspace I could see that part of the aircraft was blown out and I figured out that the extinguisher CO2 cylinders had been hit by a bucket and exploded the cylinders. I got the gear down and reported to Capt. Geddes and Lt. Sherman. Sgt. Shine reported this find to the control tower. When we landed at Biggs Field, the group had already gotten in touch with the factory.
As our crew walked around the aircraft, we found 97 holes in the B24. All holes were below the flight deck Based on this inspection, I reported that this aircraft was not ready for combat because a bullet or ack ack could hit a super charger and this aircraft could bring itself down. If bombs were on board it could be blown up. Both pilots agreed.
The following morning the factory had their engineers there to assess the damage. Three changes were made to the B24: (1) a half moon deflector ring was installed at each turbo wheel to deflect buckets from the aircraft fuselage; (2) all engine fire extinguisher equipment was removed from all B24s; and (3) all aircraft nose personnel will be on the flight deck at take off.
The B24 didn't require any other modifications during the duration of the war.
This one test flight and the information that we gained from it may have saved numerous combat crews and planes during the war. The 380th Bomb Group had a great part in giving all a safer aircraft. Without these modifications, this aircraft would not have been safe for combat.
William Casselberry
---
from: Richard Kee
Tue, Aug 17, 2010 at 12:30 AM
subject: Darwin/Fenton Recent Pictures and History Thread
Ted, Barbara,
Trust this message finds you well. I'm the gentleman that brought the nose art to your San Diego reunion several years ago. I assure you, all members of the 380th Association will find the information at the below link to be of interest.
http://warrelics.eu/forum/battlefield-archeology/darwin-area-23423-2/
If required, I urge you to take a few minutes to join the War Relics Forum. There is no cost and you won't get junk mail, then go to the above link. Absolutely great, recent pictures of Fenton and the Darwin area.
I'm posting your website address on the forum at this site as soon as I hit send on this message.
Cheers,
Rick
---
from: Don Hickey
Mon, Aug 23, 2010 at 1:20 AM
subject: The Yank Down Under
Barbara,
As an Air Force retiree, I really enjoyed reading about the 380th Bomb Group. Similar to Joyce McDonald, I also found copies of The Yank Down Under - I bought my uncle's house and was cleaning out the garage for remodeling and found a very dusty brown paper sack - being naturally nosy I looked in and found about half a dozen of the papers - still in good shape.
I emailed (I think it was) the Historical Society in New Zealand to see if they would like to have them but never received a response.
If you would be interested in having them, let me know. All I ask is that they be used for historical purposes and not to make money.
Don Hickey
---
Aug 23, 2010
From: Bob Livingstone
Barb,
These photos were list as 380th BG on eBay. I know nothing of them, but you may be able to find out something.
Bob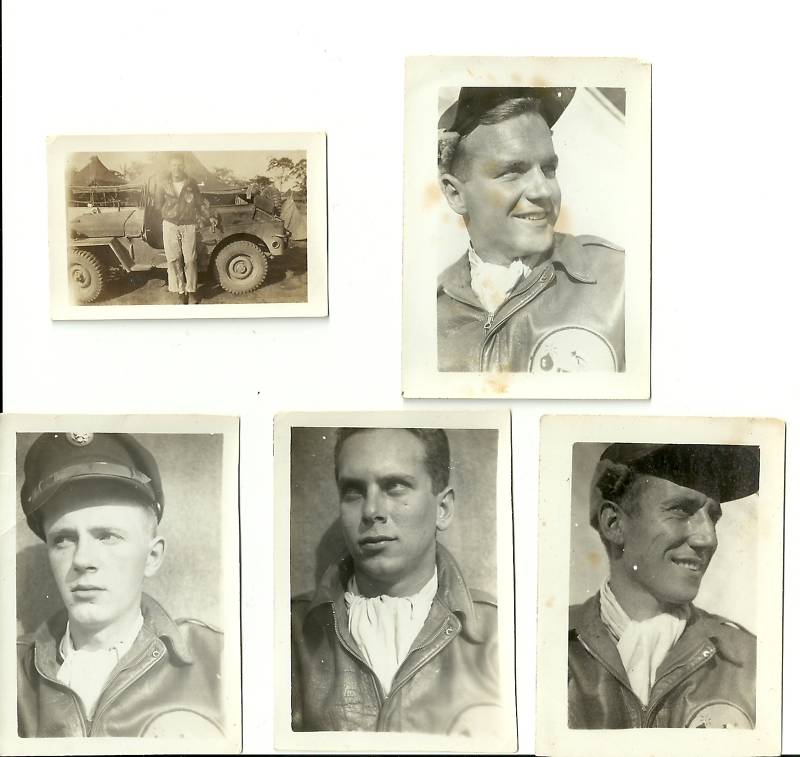 ---
from: Doug Tilley
Tue, Sep 14, 2010 at 12:22 AM
subject : Keith M. Baker
I would just like to write a few words about Keith M. Baker, A.S.N. 16189609 [530th, after reading his story in the newsletter for Spring 2010.
Keith, I read your short but very interesting story about your time in the 380th BG, I would like you to know the 5th is not forgotten. I was just a baby when you brave airmen were fighting a war, and now that I live in the Northern Territory just South of Darwin and a few short miles from Fenton, I have learnt so much about the 380th BG and its operations here in Australia, not only fighting the enemy for your country but mine too. I don't know if you served at Fenton but I have been there many times, and each time I remember the and think about just why Fenton was made and its purpose, After viewing many movies on the internet about the B24s, I can stand on Fenton Runway and my thoughts go back in time and try to imagine the hustle and bustle , the sounds and the the smells of B24s coming and going, and the anxious moments waiting for the Missions to return. Keith, it is truly a magic place to visit, but now it's all silent, but it's still there, the revetments, taxiways, the runway, and the old concrete slabs where Base Camp was. No, Keith, you are not forgotten, I thank you ! Oh and I hope you learned your lesson about eating too many Aussie Plums.
Doug Tilley
Mt Bundy Station, Adelaide River,
Northern Territory, Australia
---
IF YOU WISH TO RESPOND TO ANY OF THESE EMAILS/LETTERS, PLEASE SEND EMAIL TO:
---
Return to Newsletter #44 Topics page
Last updated: 07/09/2012 07:46 PM